Print This Page
Home > Individual Rooms > Living Rooms
Decorating Your Lounge Room
Decorate your lounge room to make your guests feel comfortable - you need stylish and practical ideas to help you create a relaxing atmosphere so that they can feel at home - in your home.
Most importantly, you need to get the balance right between looking attractive but feeling comfortable.

A fabulous looking sofa won't be popular with guests if it is too uncomfortable to lie on and watch TV.

The lounge is likely to be a bit of a 'hub' - a gathering place for the whole of your party to get together and relax.
If you have a ski chalet, it needs to be a cosy and comfortable place to recover from a day on the slopes.
Our home in Orlando had to be a place where you could recover from a hard day with Mickey!
Living Room Color Schemes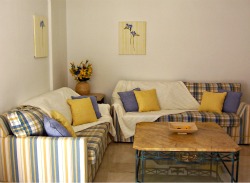 If your lounge is open-plan, you will need to bear in mind the color scheme of adjoining rooms as a co-ordinated home is more visually appealing.
The lounge in our Florida property was open-plan to the kitchen and breakfast nook and we chose a color scheme that would flatter all these areas.
We had already chosen a neutral colored carpet throughout the property but wanted to steer clear of the beige and pink color schemes which seemed so typical at that time in the area and which we very much disliked.
With both the lounge and the Breakfast Nook overlooking the pool area, blue seemed an obvious choice to us with sunny yellow used as our main accent color.
Overall the scheme gave an impression of Spring Freshness - blue and yellow is most definitely one of my favourite living room color schemes.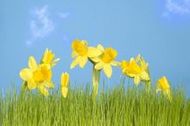 The blue sofa came complete with a number of large cushions or toss pillows in the same fabric as the main body of the sofa but we chose to remove these and replace them with a number of smaller cushions in a mixture of fabrics that all had the same basic pallette - blue, yellow, bright green and cream.
The end result was a much more informal arrangement and clearly showed that the room had been personalised and not simply decorated 'off the peg' with a complete furniture pack option.
I personally think that this is very important. When renting a vacation property myself, I am always keen to seek out a property that you can see is loved and is the pride and joy of someone who thinks nothing of going that extra mile to make my vacation more enjoyable.
Decorating A Living Room

The Extras...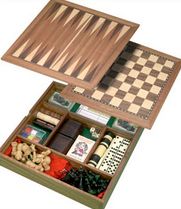 When it comes to living room ideas in a vacation property, I feel it is also important to think beyond the standard sofa, coffee table, TV etc. and provide things to help your guests amuse themselves. For that reason, I highly recommend the provision of a range of games.
Something as simple as a compendium of games, a couple of packs of playing cards and a game of Scrabble (don't forget a dictionary!) or Trivial Pursuit will help your guests have fun if they are unable or unwilling to go out.
Parents traveling with young children aren't always able to go out in the evening and even in the loveliest of climates there is always the odd day of rain which prevents people getting out and about.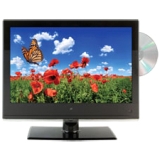 We also always provide a TV and DVD with a range of films for all ages and a stereo system with a selection of CDs to suit most tastes. This doesn't need to cost a fortune - many of ours were gathered from friends who had tired of them or whose children were now too old. Charity or goodwill shops are also a good source of DVDs, CDs and books. We provided a selection of books and a note to guests to help themselves.
Whatever direction your own living room ideas take you, remember that this can be an expensive room to decorate and furnish as the room will need to withstand a lot more use than any other room in the property. Replacing large items of furniture can be costly so it is important to shop around and get value for money whilst also investing in quality furnishings that will stand the test of time both in terms of wear and tear and style.
Do You Have Something To Say About Living Room Decor?
Whatever it is, I would love to hear about it.

Whether you have a question, a comment or a great decor idea - we want to hear all about it.

Got a photo? We'd love to see it.

Want to link to a page on the internet? Perhaps your own website? Just type in the website address and I will turn it into a clickable link before adding the details to the site.


What Other Visitors Have Said
Click below to see contributions from other visitors to this page...