Print This Page
Home > Rooms
One Room At A Time
Getting all the rooms looking just right is important but whether you are decorating a vacation property or your own home you need to remember that not only does each individual part of your property need to look good but the property as a whole needs to have a cohesive look too.
Add to that the need for the property to 'work' on a practical level and stand up to the wear and tear of regular visitors and you have quite a job on your hands.

Walk through your vacation property and try to envisage how your guests will use each area. Not only do you need to consider your own likes and dislikes but also those of your potential visitors.

Decorating your vacation home is more complicated than decorating your own home.
You need to remember that guests won't look after your vacation property in the same way that you would so some things - house plants for example that need regular watering - are just not an option.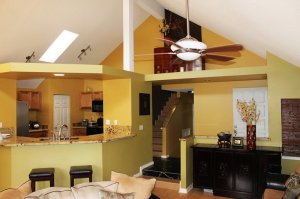 You need to look at the property one room at a time but never forgetting that you will want to achieve a general style or look for the interior of your property that flows from one area to the next - particularly in areas that are open-plan.
No one is saying your property needs to be the same color throughout but color schemes that clash on adjoining walls will never give the harmonious and relaxing feel your guests are looking for.
Whether your taste leans towards contemporary or antique, some element of style or color needs to bring the property together as a whole.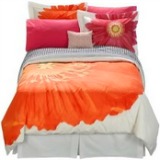 Remember that visitors will have expectations of your property before they arrive - they may have been looking forward to this visit for months.
The person paying the bill is likely to be the person who also stays in the Master Bedroomand they will expect their accommodation to be more opulent than a Guest or Twin Bedroomwhich will quite possibly be occupied by children.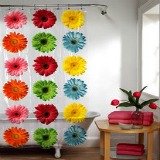 The same applies with other parts of the house.
A Master Bath should should always be luxurious and 'grown up' whereas a Family or Guest Bath can be more relaxed and even fun.
A new shower curtain and towels is probably the cheapest and easiest way to give a 'lift' here using either a bright colour or a fun character like Mickey Mouse or Betty Boop.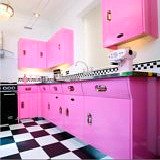 Kitchen color schemes need to be given careful consideration – particularly if your kitchen is open-plan - but it is certainly an area where you may wish to inject a burst of color.
A kitchen is expensive to replace so it might be a good idea to opt for neutral or light wood cabinets which can be enlivened by adding cute and colourful accessories - cloths, pot holders etc.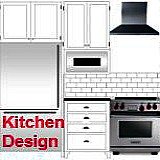 Check out what kitchen design software is available online - you could save yourself some serious money by remodelling a tired kitchen yourself.
With big names in design like Ikea, Cabinet Liquidators and Merillat all offering useful tools it is well worth spending a bit of time looking at what they have to offer.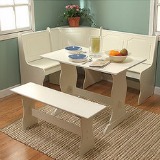 If you are lucky enough to have a breakfast nook in addition to a dining room, make sure you define this as the casual eating area - a great place for feeding the kids.
One of my favourite color schemes is blue, green and yellow and we used this to good effect in our Florida property breakfast nook having taken inspiration from the pool, grass and sunshine we could see through the window.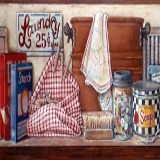 Not a place you want to spend a lot of your vacation time but there is no area of the property we can afford to ignore.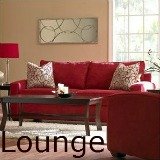 The hub of the house - perhaps the only place that all members of the party will use so vital that we get it right.
Lounge color schemes are very important for setting the right tone.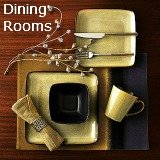 If you are fortunate enough to have a Breakfast Nook at your vacation property you will want to give your Dining Room a more formal look.
Color schemes can go some way to creating the right tone and you will need a color scheme that suggests that this area is perhaps more appropriate for adult dining than kids with ketchup-y fingers!
A games area should be fun whether you decide to go for a sports theme or something more unusual.
Whether you have somewhere purpose built or are perhaps converting a garage, you want this to be a space where your guests can relax and have fun.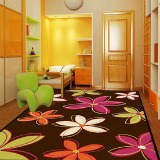 A loft seems to be uniquely American but European properties may also have an area with a similar use – perhaps where you might provide things like a selection of books and games or a computer.
This should be casual area and you can have a bit of fun decorating here.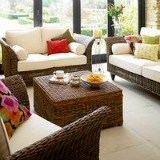 Another area where you should aim for a casual atmosphere is a conservatory or sunroom. To give a co-ordinated look and a feeling of space, you may like to take your color scheme inspiration here from the view outside.
Natural fabrics are always a good choice like this linen and rattan suite pictured here from British retailer The Cotswold Company.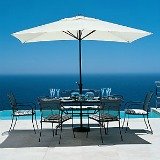 Another much used part of the vacation property is your lanai, patio or garden area.
The outside space at your property - particularly if it has a pool - is very important and will most likely be the part of your property where your guests spend most of their time.
We also have more detailed advice on Patio Furniture and, something quite new to me...Weather Treated Patio Pictures.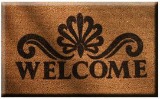 Last on the list but responsible for that all important first impression so don't underestimate the importance of the first thing your guests will see as they open the door on arrival.


To summarise, choose color schemes and decorating ideas on an individual room basis whilst never forgetting that we must also view the property as a whole.