Print This Page
Home > Individual Rooms > Conservatories and Sunrooms
Decorating The Conservatory
Decorating a conservatory or sunroom is easy - just think of it as an all-weather indoor garden room then think about how your guests are most likely to use the room.
In my opinion this area is best used as an indoor/outdoor all-weather room for enjoying the warmth of the sun in the winter months when it is a little too cold to be outdoors and for enjoying the garden or pool view whilst keeping out too much heat in the warmer weather.

I see it as an indoor extension of the garden and like to decorate in light colors with an emphasis on natural materials and plants.
I love the use of wicker and rattan for the furniture combined with natural linen and splashes of color added with cushions and rugs - the best look in my opinion when it comes to sunroom and conservatory decor.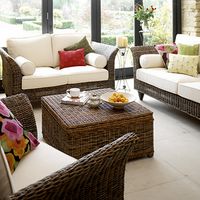 The furniture pictured here is offered by a UK based company called The Cotswold Company, and it illustrates perfectly the blend of contemporary styling with the use of traditional, natural materials.
As there are usually a lot of windows in a sun room, the window treatments you choose will be even more important than usual as often there is little distinction between windows and walls. Of all the possible window treatments, blinds are by far the most popular.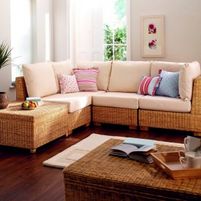 There is more to think about though than simply the look of the room - you really must consider the climate.
It is important to make it a room for all seasons as by its very nature – and extensive use of glass – without proper planning, it can be too hot in the summer and too cold in the winter to be a usable room.
Care should be taken to provide your guests with adequate heating and ventilation and, if you are building the sun room yourself rather than purchasing a ready made property, decisions need to be made at an early stage.

Things like electric underfloor heating are best installed during the initial building stage rather than added later as the mess will be dreadful and your property will need to remain empty whilst the work is in progress. No point giving yourself a void period.
Underfloor heating systems are a popular choice in a small conservatory where you may find that having radiators takes up too much wall space and makes positioning your furniture difficult. I would also be wary of having a free standing heater in a vacation property as there is always a risk of them getting knocked over which could, of course, be dangerous.
In addition to window blinds, you will need to consider the ceiling of your conservatory too as the heat of the sun needs to be kept out to some extent.
Ceiling blinds can be expensive but I feel they are essential. Using the same fabric for the window and ceiling blinds gives a more stylish and co-ordinated look than using two different fabrics.
This modern Centrifica ceiling fan with light by Monte Carlo is also a good option as it is both practical and attractive.
Having the fan and the light fitting combined in one unit also reduces the amount of wiring necessary.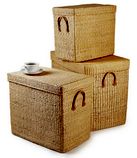 You need to think about how the room will be used and furnish it with that in mind. Is it a pleasant place to sit with a cup of coffee whilst doing a crossword or reading a book?
Comfortable sofas, plenty of end tables, a magazine rack and adequate lighting would all be welcomed by your guests. Is it a casual second sitting room? A cozy rug on the floor for the kids to sit on whilst playing a game, wicker storage chests full of games, small toys, pens, pencils etc.
Decorating sunrooms and conservatories falls into place when you spend some time imagining how people will be using the room.