Print This Page
Home > French Country
French Country Decorating Ideas
I am often asked for French country decorating ideas and it is clearly a style of decor that is much admired the world over.
We live in such disposable times - nothing ever seems to get repaired anymore, simply thrown away and replaced - that I am drawn to French country decor for the simple reason that there is a look of aged, faded elegance.

French country cottage furniture looks like it was made by a craftsman who learnt his trade from his father who in turn had learnt from his.
They use real wood that once upon a time was a tree. You imagine many of the pieces have been handed down through generations of families and I love that thought. Anyway, enough of my ramblings...
I make no apology for this page having so many lovely pictures as really this is a style that is easier to explain in pictures rather than words.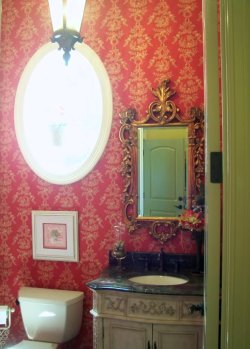 French country bathrooms differ most from other styles in that they tend to be furnished with individual pieces.
In the UK and the US there has been a move towards everything being 'fitted' – a basin being inset into a vanity unit for example and wall to wall or floor to ceiling everything – whereas French country bathrooms tend to use more stand alone pieces.
From a practical point of view, this will always make cleaning more difficult and you will need to factor in the extra time you, or your cleaning help, will need to clean a bathroom if you opt for this style.
Much like bathrooms, French country kitchens often feature separate pieces of furniture rather than the sleeker look with which most of us are more familiar.
Dried herbs and flowers are frequently seen – especially the much-loved lavender – and there is often a sun-bleached, faded look with fabrics and accessories in muted tones rather than bold colors.
You cannot fail to notice the use of natural materials such as wood and metal is much in evidence rather than the man-made plastics that are used so often in other countries.
The French style bedroom will be a tranquil place of relaxation. Furniture tends to be generously proportioned and over-embellished by many people's standards. It is truly for the anti-minimalist.
Who could deny though the appeal of a luxuriously over-sized bed complete with French country toile bedding in gentle shades? The toile pattern is synonymous with French style and is available in more colorways than the traditional blue and white. It not only works well as a fabric or bedding choice but also as a wallpaper.
If you are drawn to this style but feel your property is simply too modern, perhaps consider a modern color twist. One of my favorite ideas would be to combine the old and new by using a black and white toile which bridges the gap rather nicely.