Print This Page
Home > Beach Cottages
Beach Cottage Decorating
When it comes to beach cottage decorating I think property owners fall broadly into one of three camps.
The most popular color pallete takes inspiration from the surrounding area with the colors of the sky, sea, sand and sun being much in evidence.

Materials tend to be natural and good use is made of wood, stone and shells with furnishings often made of wicker or rattan.

The whole 'feel' is one of comfort and relaxation and suits a property where guests can just come in and kick off their shoes.
Much as a private cottage on the beach must be high on the wishlist for many of us, you will need to remember the practicalities of coping with sand – particularly when thinking about your flooring choices.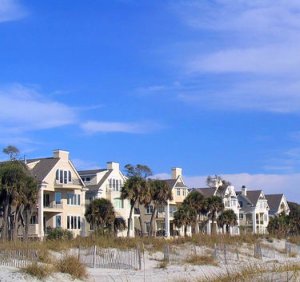 Personally, I would opt for stripped floorboards with a few rugs scattered around to add to the cozy feel of the property.
A rug can just be taken out for a good shake if it gets sandy and a wooden floor can simply be swept.
Leaving a broom in a closet your guests can access is a good idea as many of them will want to sweep the floor at some point during their stay.
Another popular décor style is nautical. Good old red, white and blue form the backbone of this with accessories featuring lighthouses, boat steering wheels and so on. Just think 'boat' and you can't go wrong.
It is a more traditional look appealing mostly to older visitors and, dare I say it… men.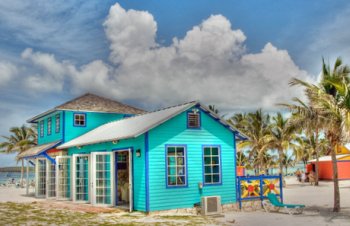 Last but by no means least is a style of beach cottage decorating more commonly seen in the Caribbean.
The daring use of shocking pink and turquoise make for a beautiful colour scheme if your beachside property is in an appropriate location.
In an area where there are a number of properties together, you may not be popular with the neighbours if you choose something so colourful but in the right setting it can look fantastic.
If your property is likely to appeal to a young family market this may be an option for you to consider as the stronger, brighter and deeper colours will cope better than the neutrals with the inevitable wear and tear from children.
My thanks to Lee Coursey @ flickr for the photo of houses on Hilton Head Island Beach and to FotoDawg @ flickr for the photo of Coco Cay House