Print This Page
Home > Wall Decor
Contemporary Wall Decor
All our wall decor ideas and advice for anyone looking to save time and money but still achieve a fabulous designer finish.
This is simply one of the most important aspects of your interior design plan to get right - whether it's a complete re-painting job or the addition of some well chosen pieces of art.

A few big-impact pieces of abstract art for example or an accent wall painted in a bright color can completely change the look and feel of a room and bring a dated property into the 21st Century but we have a lot more options available to us in our do-it-yourself decorator's bag of tricks.
Some of those options - vinyl decals for example - allow you to change your mind if the finished product is not quite to your liking without having gone to a lot of time, trouble or expense. Ideal for those of us who like to try something new.

When deciding what needs decorating in your property, take a good look at all the walls in a room before you do anything. A really good look. Move furniture around and make a thorough inspection. Does the whole room really need painting?
Painting an accent wall or perhaps a feature chimney breast or alcovewill immediately 'lift' your room with an injection of color whilst saving you both time and money.
If only one part of a room really needs painting, consider yourself lucky and just paint that! Worried that you won't be able to successfully match the color with the rest of the room? Don't even try. Just use a totally different co-ordinating color.
Imagine a completely white room. How different will the whole feel of the room be if you paint one wall shocking pink? Or bright red? A whole room in one of those colors might be overwhelming (and could bring on an instant migraine!) but one part of a room or feature in a bright color adds fun, impact and style.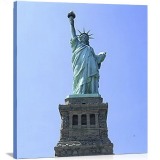 Having photos printed on canvas gives you the opportunity to enjoy the vibrancy and detail of a photograph with the size of a more traditional piece of art.
I think this is a particularly useful idea if you live near a tourist attraction and can have a picture of that displayed in your property.
The use of wallpaper borders is another way to add color and interest to a room with little cost and effort. This is one contemporary decorating style that will be your friend if you are decorating a property that needs 'a little something' but lack of time or money prohibits you from doing a complete make-over.
Once seen as old-fashioned, it is well worth the time to spend a few minutes checking out the new, stylish options available.
Accent wall tiles are often overlooked as wall decor but can help you bring a bit of fun and personality to rooms where it is appropriate - especially bathrooms and kitchens.
Being both cheaper and simpler, it is generally your best option to tile a bathroom in plain white but the addition of a few ceramic accent tiles is what will make your bathroom stand out from the crowd.
Using white in a bathroom is so important - your visitors need to see how clean your bathroom is.
For a dramatic impact, you can choose from some of the fabulous, ranges of beautiful wallpaper available now - decorating with wallpaper is back with a bang.
This can be particularly useful if you have a wall with a poor finish and re-plastering is beyond your D-I-Y capability. The use of a thick wallpaper can help cover up small defects, or even cracks in a wall.
Have you ever thought about using maps as wallpaper? This cheap and cheerful idea can be very effective in a den or recreation room. You could also use local tourist attraction leaflets and ticket stubs for a more random, collage style wall covering and a coat of matt-finish varnish at the end will help to keep it looking good.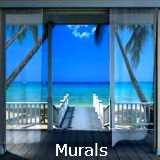 If you are trying to make a big impact in a room, don't forget to give wall murals a look.
Trompe L'oeil is a particularly attractive style and can add an illusion of space to a small room.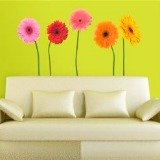 Decorating sometimes has a practical as well as an aesthetic purpose and it might be that occasionally you are looking for something that will cover a mark or mess on a wall without going to the expense of complete redecoration.
When you are looking for a 'little something' to cover a dirty mark or add a bit of color to a kitchen, bathroom or games room have a look at vinyl wall decals - great for those of us who like our wall decor to be reversible!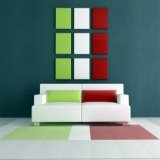 Sometimes 'less is more' and we must always remember that we are decorating with potential visitors in mind.
Any decorative accents you add need to be practical and adding a lot of 'knick-knacks' that will need regular dusting will just cost you time and money in the long run.
You will probably be better off investing in a smaller number of big impact items rather than a lot of small, fragile dust gatherers. You also need to remember that your property needs to photograph well if it is to stand out from the host of similar properties that are on offer on the internet and it is only the bigger decorating decisions you make that will be seen by the prospective guest.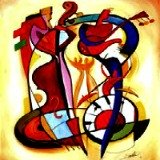 Abstract art - quite simply, nothing gives a bigger 'bang for your buck' when it comes to big impact wall decor.
If you have a modern, new-build property that has been painted in neutral colors throughout you have the perfect opportunity to indulge in abstract art.


Whether you choose to roll up your sleeves with a bit of decorating or give your creative side free reign to design your own master pieces - have fun!
What's Your Favorite Wall Decor Tip?
Do you have a great wall decor idea?

Whatever it is, I would love to hear about it. What it is, why you love it and how much it costs you.

Got a photo? We'd love to see it.

Want to link to a page on the internet? Perhaps your own website? Just type in the website address and I will turn it into a clickable link before adding the details to the site.

What Other Visitors Have Said
Click below to see contributions from other visitors to this page...