Print This Page
Home > Wall Decor > Abstract Art
Affordable Abstract Wall Decor
If you are lucky enough to find affordable abstract wall decor then you will have no trouble creating a stunning focal point in your property whether your budget runs to abstract art prints or original artwork - inexpensive wall decor with a big impact on a small budget.
Who wouldn't be inspired by these pictures of abstract art? I know of no easier or quicker way to add a big 'WOW!' to any room in your vacation property than carefully chosen big-impact, bright, stunning art.
With something to fit any budget from a cheap print or poster in a clip frame to a large canvas or beautifully mounted limited edition - abstract art prints are most definitely worth a second look.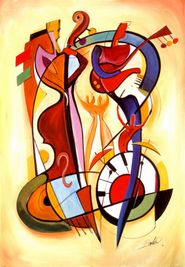 You may feel that these abstract art images are not your 'cup of tea' and I know there are a great many people who don't appreciate this style of painting at all but when it comes to adding a contemporary twist to a room there is no better way.
To me, it is all about color so in a fairly dull room with, for example a plain gold or sage green sofa, can you imagine how this gorgeous picture - Wild Party by Alfred Gockel - would 'lift' the room?
When potential guests are trawling through pages of rental properties that all look very similar, a picture of your living room or master bedroom suite with a large eye-catching, brightly colored print on the wall could be the very thing that makes this potential guest stop and look twice at your property - and isn't that what it is all about?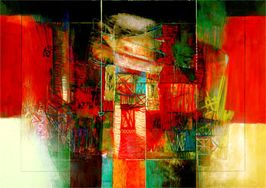 Obviously, if the major selling point of your property is its 'olde worlde' charm, you might want to give this style of decor a miss but don't be too hasty to dismiss it.
Something like Sinfonia III by Giuliano Censini would surely bring drama and warmth to almost any style of property.
I have seen abstract art images used to great effect in everything from a beach house to a ski chalet in the mountains and it never fails to impress.
As usual, we are looking for something that makes our property stand out from the crowd and this is one inexpensive way to do just that.
Unless you are a whizz with a paintbrush yourself, I know of no better source of affordable abstract wall decor prints and posters than All Posters and I highly recommend them for their terrific range, pricing and service.
What's Your Favorite Wall Decor Tip?
Do you have a great wall decor idea?

Whatever it is, I would love to hear about it. What it is, why you love it and how much it costs you.

Got a photo? We'd love to see it.

Want to link to a page on the internet? Perhaps your own website? Just type in the website address and I will turn it into a clickable link before adding the details to the site.