Print This Page
Home > Window Treatments
Window Treatments Ideas
Window treatments that are quick, easy, value for money and stylish.
There is a window dressing style to suit every window but making the right choice can be hard.

I hate sewing - always have.

I am one of those people who would rather replace something than sew a button back on it but I don't like paying people to do things I could probably do myself so no-sew D-I-Y window dressing fits the bill nicely!
My sister and I put some time into coming up with ideas for interesting window treatments purely and simply because we could never afford to have things professionally made for us when working within the tight budget constraints of preparing a vacation property for rental.
We never let ourselves forget that we had to run the property as a business.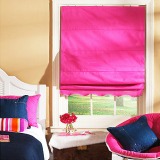 Window blinds are always popular choices as they are both practical and reasonably priced.
Sometimes they serve a very useful purpose too and insulated window blinds can help keep the heating costs down if your property is in a cold part of the world.
This pink Roman Shade is a lovely example of how a simple and inexpensive blind can lift a room with a lovely splash of color.
If your vacation property is in a cold area or you are trying to create an opulent look and feel, curtains and drapes might be the answer.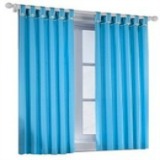 One thing to bear in mind though when decorating a vacation property rather than your own home is that you may love the look of long drapes that 'pool' on the floor but will other people just trample over them and make them dirty?
If there is no cord pulley to open and close the drapes, will marks soon appear on the edges as people grab them to open and close?
These beautiful ice blue tab top drapes fall to just above the floor so add to the look and feel of your room without running the risk of becoming shabby.
I have always favored simplicity when it comes to window dressing ideas and one of my favorites for a contemporary window treatment is a padded pelmet that hangs from a pole just above the window.
This adds a splash of color to a room without obscuring a lovely view and we used this to good effect in a villa in Florida where something was needed to take the bareness away from all the windows that the house builders had left with plain vertical blinds.
Because it only uses flat fabric without any gathering it is extremely good value for money too.
Another useful option when you just need 'a little something' to take the bareness off a window frame or hide a rather unsightly blind fixing are swags, valances and window scarves.
Done simply, they are cheap and easy and ideal for a vacation property.
Requiring little in the way of skills or money, they are within reach of us all.
Bear in mind though that you may occasionally have a curious guest so if the fabric can be locked, stuck or sewn into place you eliminate the possibility of a guest giving your lovely window treatment a little tug and turning it into a total mess.
Before making your choice, be sure in your mind what you are looking for by asking yourself a few questions - are you trying to...

hide an unpleasant view?

enhance a great view?

add colour to a room?

keep out the cold?
First and foremost, window treatments must serve a practical purpose so just bear in mind the answers to these questions before parting with any of your hard earned cash.
Inspiration for window treatments often start when finding a fabric you love in a remnant shop and then thinking about how to show it off to its best effect.
How does the pattern repeat? Does it look good pleated or will it look odd? A lot of patterned fabric loses its appeal when gathered on curtain header tape whereas a funky or geometric design may be enhanced by the more angular styling of a roman blind.
I find color to be so important to me that I am inclined to find the fabric first and decide what to do with it later - use the fabric to inspire you.
Do you have something to say about Tuscan window treatments?

What's Your Top Tip For Easy Window Treatments?
Do you have favorite window dressing ideas? Do you have a tip for a quick and easy window treatment? Some no sew window treatments you would love to share? If so, we'd love to hear from you.

Got a photo? We'd love to see it.

Want to link to a page on the internet? Perhaps your own website? Just type in the website address and I will turn it into a clickable link before adding the details to the site.

What Other Visitors Have Said
Click below to see contributions from other visitors to this page...