Print This Page
Home > Window Treatments > Scarves and Swags
Swags, Scarves And Valances
Casual swags and valances or soft window scarves are a great window treatment for casual but stylish interior decor.
Sometimes known as 'mock swags and tails', this style offers a much softer look than the sometimes stiff and often pleated style of the more traditional valance and is of course a much cheaper and easier option.

Of course it's just my opinion but I would go as far as to say that to me, without some kind of soft window treatment or pelmet, a window can look unfinished and obviously that is not what we want.
With the fabric simply pulled through a corbel or twisted round a hook or curtain pole (available from most haberdashery stores) they are a much easier window finishing touch to use than some others.
They often only involve a length of light, soft material such as voile gathered in a casual manner so can easily be made on the spot with a cheap piece of fabric and require no sewing or complicated instructions.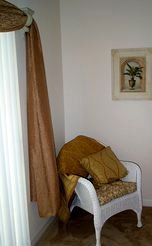 The effect is a casually framed window and possibly an injection of colour into a room whilst retaining a comfortable and relaxed atmosphere.
This type of window dressing is also useful if you have windows fitted with blinds and need to add something to the window to take away the bareness of the window edge or hide the unattractive fittings.
Often in new build properties you will be provided with neutral colored vertical blinds or roller blinds and whilst they fulfil the need to provide your guests with some privacy they offer little in the way of decorative 'finish'.
Swags and valances are very useful for not only making the window look finished but also for giving you a way to tie the window in with the color of the sofa or cushions in the room by using a matching or co-ordinating fabric.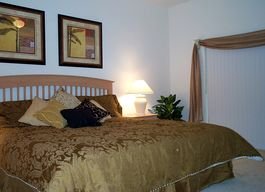 A simple light fabric threaded through a corbel (a bit like a fancy wall bracket or sconce with a hole through it) is the option we went for in one of the Master Bedrooms in our Florida property.
One of the factors we had to remember was that the window treatment would be over sliding patio doors leading to the swimming pool area - not so much a high traffic exit but an area where you might expect wear and tear and, of course, possible water damage.
Whilst we wanted an opulent feel to the room we had to be practical as the doors were going to be used regularly and so we needed a window treatment that wasn't going to get ruined by being caught in the door or have tall visitors constantly catching their heads on it.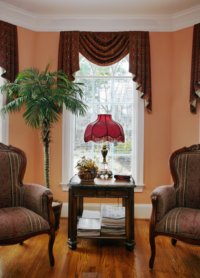 The more traditional, pleated Swags and Tails are a more complicated form of window treatment and unless you are a confident seamstress, are perhaps best left to the professionals.
The name comes from the Swag - the fabric draped across the top of a window - and the Tail or Tails being the fabric hanging down one or both sides.
This formal version usually involves a stiff pelmet, either plain or pleated, with a folded tail at one or both sides of the window. This style suits a dining room or formal lounge area and can add a real feeling of opulence and grandeur.
They are usually made of a thicker fabric and are very often lined in a contrasting colour. If you choose to have these in your vacation home I would suggest that you have them professionally made unless you are very confident of your skills with scissors, fabric, thread and a sewing machine!
Where would you like to go now?
What's Your Top Tip For Easy Window Treatments?
Do you have favorite window dressing ideas? Do you have a tip for a quick and easy window treatment? Some no sew window treatments you would love to share? If so, we'd love to hear from you.

Got a photo? We'd love to see it.

Want to link to a page on the internet? Perhaps your own website? Just type in the website address and I will turn it into a clickable link before adding the details to the site.

What Other Visitors Have Said
Click below to see contributions from other visitors to this page...

My Living Room Window Treatment
My living room is calm and quiet and anyone can go there and put their feet up, relax or read a book. I selected my window treatment very carefully. …