Print This Page
Home > Decorating a Bedroom > Master Bedrooms
Master Bedroom Decor
Your Master Bedroom decorating plans need to focus on creating a bedroom fit for a King - that means King sized beds and King style luxury.
This room will generally be occupied by the head of the household - the person who is paying the cost of the vacation.

They don't want a bedroom like they have at home, they want a touch of luxury and to feel special and pampered.

Many vacation homeowners will go out of their way to make their property special with added touches like a small welcome pack, a bottle of champagne in the fridge and lovely toiletries in the bathroom.
Your guests might be more used to holidaying in hotels and will certainly appreciate these things.
We have found that one thing often commented on by guests was how much they loved the feeling of opulence created by the use of gold fabrics and extra pillows and cushions we used.
Your Master Bedroom designs need to bear in mind that this is a very adult room and your guests will appreciate the room being decorated in that way.
In my opinion, nowhere in your vacation property is it more important to put your own likes and dislikes aside to provide a master bedroom with your guest's expectations in mind rather than your own.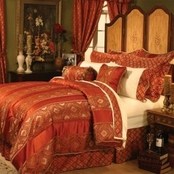 Whenever people use phrases like 'Fit for a King' or 'decorated like a Palace', they often have in mind a sumptuous room of gold and ruby red silk or satin rather than the easy-care cotton that many of us have in our homes!
Surprisingly though, it is easier and less expensive than you might think to create this look using bed in a bag sets available from many high street retailers or online stores.
This is one area where the US is a long way ahead in the UK and we have been tempted in the past to buy online from a US seller and pay the postage to our home in England. Believe it or not, even with the cost of postage, this represents good value for money.

King Sized Bedroom Sets


A beautiful Master Bedroom will be a big selling point for your house and in addition to it being the room occupied by the person paying for the vacation, it will also probably be the room that you occupy yourself. Making it the room where you 'splash out' on a few luxuries therefore makes sense.
One vital element of your master bedroom decor must be, of course, the bed!
We once stayed in a rental property with a water bed which was fabulous and you may like to consider this or perhaps a four poster or canopy bed.
Whatever else you do though I would suggest you always opt for a King sized bed where space permits - particularly in the US where it is much more expected than in Europe.
Do You Have Something To Say About Decorating A Bedroom?
Whatever it is, I would love to hear about it.

Whether you have a question, a comment or a great decor idea - we want to hear all about it.

Got a photo? We'd love to see it.

Want to link to a page on the internet? Perhaps your own website? Just type in the website address and I will turn it into a clickable link before adding the details to the site.


What Other Visitors Have Said
Click below to see contributions from other visitors to this page...

Bedroom Colors Not rated yet
My master bedroom is painted dark brown and white. My bedroom furniture is a very dark brown, almost black. What colors for bedding and the bathroom …
Bedspread Color Not rated yet
I have floral wallpaper in my bedroom, the main colors being a warm burgundy, soft rose and pale gray. I really don't want to have to redecorate so …