Print This Page
Home > Create Art
Create Your Own Art
Bargain priced decorating ideas often involve a bit of D I Y so time to polish up those artistic talents and get creative!
No matter how hard you try, sometimes you just can't find exactly what you want so why not add a little more of your own personality to your vacation home?

Why not have a go at creating your own art that will not only be the exact size, shape and colour you want but will co-ordinate beautifully with your furnishings?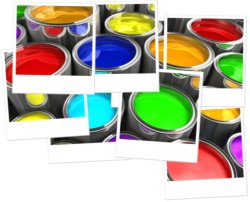 Please don't be put off this idea because your artistic talents fall well short of that of David Hockney, Picasso or Andy Warhol. Trust me, you wouldn't want me on your team in a game of Pictionary!
If you can't find what you are looking for in the shops, have a look at some of our ideas for D I Y art.
A blackboard wall or panel may not seem an obvious option for a vacation property but what a great way to leave your guests a 'Welcome!' message.
Add an extra twist with magnetic letters if the potential mess of chalk is off-putting for you.
It's not just about buying the right artwork for your property - it is about displaying it to its best effect so don't waste a gorgeous picture by getting this wrong.
You'll be surprised what a difference the wall color makes to the look of this picture so have a look here for our cheats way.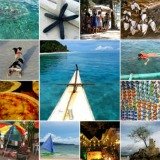 Think of it as scrap-booking on the wall - a unique collage of pictures of the local hot-spots to give your guests a little taste of what the surrounding area has to offer.
Don't limit yourself to photos - leaflets, flyers and ticket stubs can all be used to help you create a one-of-a-kind display.
You may not be great at painting - but can you stand back and throw? Of course you can and the kids will definitely want to join in and help with this one.
Apart from the fun, this is a really great way of creating bargain priced artwork in the exact colours to match your property.
Save time and money by painting straight onto the wall without the need for a canvas.
All you need is a bit of patience and some decorator's masking tape.
A really cheap and cheerful way to use up leftover paint.