Home > Bedrooms

Print This Page
Decorating Bedrooms
Looking for advice on decorating a bedroom in your vacation property?
Questions asking for bedroom makeover ideas are regulars in my e-mail postbag with specific help regarding building a color scheme around existing colors being the most requested.

A colour scheme that doesn't alienate young or old, male or female is what we are looking for in our vacation property.

Decorating a vacation property which you intend to rent to vacationers is more complicated than decorating a property for your own use only.
You may find that you need to make some of the rooms a little bland for your own taste so as to appeal to a broader market but don't forget that you can always keep some favorite pieces locked up in the owners closet to bring out just for your own use.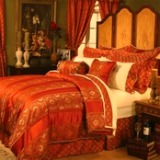 Just keep in mind that your visitors are looking for a touch of luxury on vacation and you won't go far wrong with your Master Bedroom decor.
Gold is likely to be one of the colors on your palette but if your property has a very modern look, silver may be a good alternative.
Less formal than the Master Bedroom, go for some bold color to make your property stand out from the crowd.
Remember that your property needs to photograph well if you want a prospective visitor to choose it from amongst the long lists of similar properties available for rent on the internet. A bold color or pattern can help you with this.
If there are children in the party, they are likely to be in your twin bedrooms - but what if it is an all-male group of golfers?
Aim to achieve the impossible - a room color scheme that will appeal to everyone.
A bedroom photo gallery to inspire you - why not send us a picture of your favorite bedroom decor?
Do you have a question that hasn't been answered yet? Just click here and send us your question.
Do You Have Something To Say About Decorating A Bedroom?
Whatever it is, I would love to hear about it.

Whether you have a question, a comment or a great decor idea - we want to hear all about it.

Got a photo? We'd love to see it.

Want to link to a page on the internet? Perhaps your own website? Just type in the website address and I will turn it into a clickable link before adding the details to the site.


What Other Visitors Have Said
Click below to see contributions from other visitors to this page...

Teenage Bedroom Dilemma

I'm a teenager and I need a more grown up color for my room - what color could it be? My room is pink now. Andrea's Response A lot comes down …
Cherry Walnut Bedroom Suite

I will be buying a cherry/walnut gloss bedroom suite soon - what colors should I paint my bedroom to go with this cherry/walnut color? I do like the …
Japanese Themed Bedroom? Not rated yet
Hi there, my dilema is that I just moved to a room with light pink walls. I have painted two of the walls medium gray and on one of them I have painted …