Print This Page
Home > Advice > Moulin Rouge Style
Creating A Romantic Bedroom
"I'm creating a romantic bedroom with a
'Moulin Rouge' theme"
I would like some advice about creating a stylish, romantic bedroom for our house in France.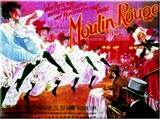 As it isn't suitable for families, we have decided to highlight that fact by making it a very adult property.
We are aiming for a 'romantic hideaway' feel to the property as it would be ideal for a couple needing to get away and spend some time alone.
To make it stand out in the crowd we would like to create a sexy Moulin Rouge look as we feel this would photograph well and be eye-catching on websites where we will be advertising.
What would you suggest?
What a great idea! I like the fact that you have taken what some people may have seen as a negative - not suitable for families - and turned it into a positive selling point with an adult focused property with a romantic bedroom perfect for couples. Good for you.
I think if it were me I would be thinking about the following: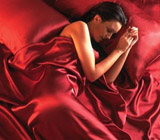 Lots of fabric - heavy curtains, large bedspreads, plenty of soft cushions and pillows on the bed in all different shapes and sizes - soft, silky, fabrics that feel nice to touch.
Pink, red, black and gold will probably be the best colours for your theme.
Tasselled gold fringe edging and chunky gold tasselled tie backs for your curtains.
Velvet is a great fabric for this look - big, red velvet curtains would be great and give a theatrical feel.
Don't forget the bedding - you want to find something sexy and luxurious but it needs to be easily machine washable as you don't want the time and expense of dry cleaning on a weekly basis.
If you want some pattern, stripes would be good.
Soft lighting is important so lamps rather than ceiling lights and pink rather than clear light bulbs would be good.
I also recommend you consider adding some fabric to the walls and you might find that screwing a small wooden baton to the top and bottom of a wall or alcove and then stapling gathered fabric to it would be a good option. I would get a piece of fabric about three times the width of the wall you want to cover and then do a quick slip stitch along the top and bottom edge that you can pull in until the fabric is the right size for the wall - much as you would when pulling in a curtain tape.
It sounds to me like you will have a great looking room here. Send me your website address when you are looking for bookings!
Do You Have A Question?
Do you have a question you would like to ask?

Need a second opinion before you start a project?

Just send it in to us and we will do our best to help.