Print This Page
Home > Patio Decor > Outdoor Art
Patio Pictures
'Specially treated for the great outdoors...
Patio pictures that have been specially treated to withstand weather and mildew are something that I have only become aware of quite recently.

This opens up a whole new area of outdoor wall decor as far as I am concerned and allows you to treat your outside space almost as if it were a room.

I have yet to see them for sale in Europe but in parts of the US they are available in High Street stores such as Target as well as online.
If I was decorating a patio area now I would definitely be looking for a bit of 'Wow!' factor and, if it was a pool area, I would certainly be tempted by these stunning sea turtle outdoor pictures by artist Daniel Jean-Baptiste.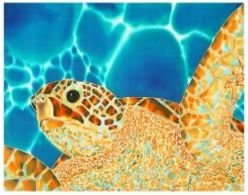 These beautiful giclee print on canvas have been specially treated to resist fading, mildew, scratches and water.
Much as they suggest Caribbean Islands and warm seas, they would be equally stunning in a terrace area with perhaps a gentle water feature sounding in the background. Garden wall art need not be restricted to pool homes but any outdoor space that could do with an injection of color.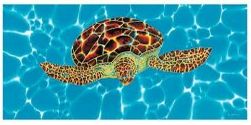 Our pool area in Florida was probably typical in that it was a very plain area with nothing in the way of color to cheer it up except for the pool water itself. Being able to brighten it up with some outdoor art is too good an opportunity to miss.
Some of these pictures - especially the ones that look like old fashioned advertising for drinks - would be really good if you have an outdoor kitchen, Tiki bar or BBQ area.
When it somes to garden decor though there is more to it than outdoor wall art. You may find that your garden and patio area need to be kept quite plain and simple to avoid the cost of expensive upkeep so adding a little color to this space may need to be done with a little garden art rather than the more traditional planting.
With that in mind, you may like to consider adding other artistic little dashes of color to your patio.

Where would you like to go now?
How about ideas for Inexpensive Patio Furniture?