Print This Page
Home > Patio Decor
Lanai or Patio Decorating
Lanai or patio decorating is an important and often overlooked aspect of decorating your vacation property but really, when it comes to your outdoor space, put inexpensive but comfortable patio furniture and a few fun touches at the top of your list.
The outdoor area of your vacation property is so important and when weather permits, your guests will no doubt choose to spend a good deal of their time outdoors.

Making it a comfortable and relaxing area will greatly enhance their enjoyment of the property.

Having just come back from a villa holiday in Portugal I was reminded of the importance of comfortable but inexpensive patio furniture.
Spending two weeks on sun loungers where the thickness of the mattress could be measured in millimeters rather than centimeters and the chairs had no padding at all gave us all a pain in the... well, I'm sure you know where!
Even had the rest of the villa been perfect, I would be hard pressed to recommend it for that reason alone.
At our pool home in Florida the lanai (covered patio) was a very plain area - just painted concrete really - so we couldn't resist adding quirky little creatures to our walls.
We told ourselves that it was for the children but we knew that actually they didn't care – we just thought they were cute!
At that time I was unaware that there was such a thing as patio pictures treated to withstand the weather but I would certainly have had a closer look at them had I known they existed.
Citronella candles should also be on your shopping list to protect your guests from pesky insects on warm summer nights and I have no doubt they would appreciate your thoughtfulness in providing these after all, they are unlikely to have packed them.
You don't want your guests to be taking glasses and china dishes outside for fear of breakages and injury so make sure you provide them with colorful plastic alternatives - easily available from your local superstore.
A good supply of plastic glasses, plates and dishes will leave your guests with no excuse for taking glass and china outdoors. If broken glass was to find its way into your pool, you could have a costly repair job on your hands.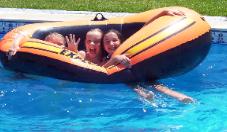 When thinking of patio decorating, don't forget the practical aspects as well as the decorative.
Pool-side privacy will be important for many of your guests and we have always favored the more natural look of a fast growing hedge to the other options - a patio privacy trellis or pool privacy screen for example - that are available in D-I-Y shops.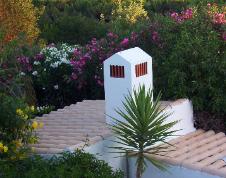 It is disappointing to not be able to use your terrace, lanai or patio during the evenings of the cooler months. Your property may even seem cramped when everyone is shut inside. When deciding your patio decorating budget, try and find the money for a patio heater.
I think that a patio heater is a worthwhile investment as it will allow use of your outdoor space for a much greater period of the year. Even if you are a smoker yourself it is advisable to ask that guests refrain from smoking inside your property so making the outdoor area more comfortable would be appreciated I'm sure.
Another practicality to remember is the route through the property that your guests will take as they head poolside. If they will be accessing the lanai or garden area via French windows or patio doors, don't forget to use a patio door curtain that can easily be pulled aside by your guests without being easily damaged by constant handling.