Print This Page
Home > Wall Decor > Inexpensive Wall Decor
Inexpensive Wall Decor
Inexpensive wall decor is not too much of a challenge - minimalist decorating or perhaps an accent wall or feature chimney breast are great examples of cheap wall decor.
Sometimes good decorating ideas come about by happy accident. Some time ago, the lovely blue walls of my living room at home were brightened by a colorful, borrowed painting.

When the painting needed to be returned to it's owner, I was left with a screw sticking out of the wall and rather than leave it like that, I hung a blank box canvas on it.

My intention had been to do a splatter painting - think 'Jackson Pollock' - at some point and I had bought the canvas for that reason.
I hung it on the wall for a few days just to see if it was the right size and shape for the space as it is not always easy to tell without doing so.
That was a couple of years ago and it is still there! After a while, I came to really like the plain white canvas rectangle and loved the simplicity of it - the room is quite 'busy' with soft furnishings and other family paraphenalia and I have yet to find anything I like more than this simple unadorned canvas.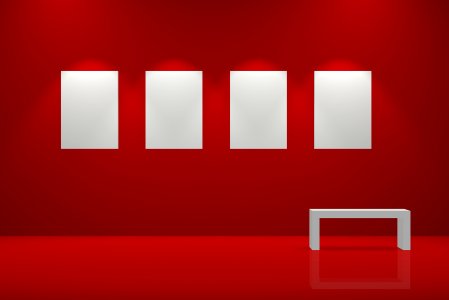 Don't you think it looks gorgeous on this red accent wall picture? This is an extreme example of course - surely no one has a home that looks like that! - but can you see how the simplicity is stunning?
If you feel that a totally blank, straight-out-the-wrapper canvas is too much for you - or too little! - how about just painting it one color? Maybe you will be inspired by this picture and take three colors from your soft furnishings and paint the canvases to match.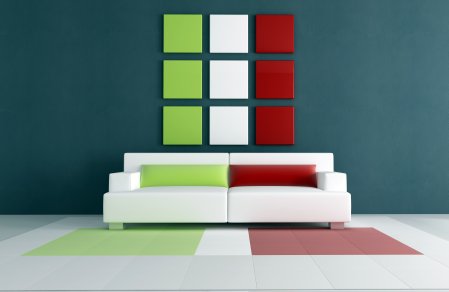 Or suppose, like me you had a blue wall - how about having a row of canvases in different shades of blue starting at one end with the lightest and getting progressively darker?
If you have some of the wall color left over, why not just buy a small, cheap pot of white paint and add a little to the wall color? Use that to paint a canvas, add a little more white and paint another canvas with that - and so on... - as many times as you like. Now that's a bargain!
Food for thought. Certainly an idea for those of us with little skill or money. For just the cost of a few plain canvases and a couple of tester pots of paint you have unique, inexpensive wall decor in the exact colors to match your room color scheme.
What's Your Favorite Wall Decor Tip?
Do you have a great wall decor idea?

Whatever it is, I would love to hear about it. What it is, why you love it and how much it costs you.

Got a photo? We'd love to see it.

Want to link to a page on the internet? Perhaps your own website? Just type in the website address and I will turn it into a clickable link before adding the details to the site.