Print This Page
Home > Wall Decor > Wallpaper
Decorating With Wallpaper
Makes A Return As Contemporary Wall Decor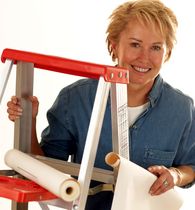 Having taken a back seat for a while and perhaps even seen as old-fashioned, wallpaper is now back where it belongs at the forefront of contemporary wall decor again.
Anyone under 30 would most likely be thinking of a picture on a computer screen or telephone rather than something you stick on the walls of your home.
I remember as a child, everyone I knew had highly patterned paper on most of the walls of in their home. As the years went by, people used to paint over it so you lost the garish pattern but still kept the texture.
Over the years it has had a bit of a fall from grace and in recent years has been used less frequently in modern homes.
That said, there are a number of specialist companies like Osborne and Little creating beautiful designs that would create a stunning impact in any room although personally I would never use patterned paper for more than one accent wall or the alcoves on either side of a fireplace.
I have done a little bit of decorating with wallpapering myself - and I didn't make a complete mess of it! - and my top tips would be:
Use a thick paper (possibly a vinyl) rather than a cheap, thin paper as it is a little more 'forgiving' and much easier to handle when wet. Some of the more modern papers require that you paste the wall rather than the back of the paper and although I haven't yet tried this myself, I understand that this is easier.
Sometimes there is a slight color variation between two rolls so double check the batch number if you are buying more than one roll.
If you are doing any painting in the room as well – round a window frame for example – do that first.
Most rooms are better suited to a bold pattern rather than a small one - especially if you are aiming for a contemporary look. An entire room papered in a bold print can be overwhelming though so I would suggest you use wallpaper on one accent wall and paint the remaining walls in a co-ordinating color. It will not only look better but will save time and money too.
What's Your Favorite Wall Decor Tip?
Do you have a great wall decor idea?

Whatever it is, I would love to hear about it. What it is, why you love it and how much it costs you.

Got a photo? We'd love to see it.

Want to link to a page on the internet? Perhaps your own website? Just type in the website address and I will turn it into a clickable link before adding the details to the site.