Print This Page
Room Color Schemes
With A Touch Of Spring
Spring fresh room color schemes and wall color ideas - vibrant green, sky blue and bright yellow bring the sun into your Breakfast Nook, Conservatory or Garden Room.
One of my favorite wall color ideas is using beautiful spring fresh colors to add a clean and vibrant feel which is particularly suited to a breakfast room or open plan kitchen area.

A simple Padded Window Pelmet is also well suited to informal eating areas and the check fabric in this picture enhances rather than obscures the gorgeous view of the pool and the lawned area beyond by using the same color palette.
In much the same way as rooms that are open plan to each other need to be linked color-wise in some way, sometimes what is outside the window needs to taken into account - particularly if the view is a major feature of the room or the window is very large or perhaps a patio door.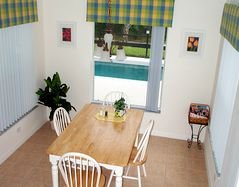 The sun on the lawn gives it a vibrant lime quality, and so we decided to use the colors we could see through the window in the color scheme for the room itself.
The bright green of the grass and the cool blue of the pool worked so well together, and daffodil yellow seemed a natural choice for a fresh, clean look.
It is very important to get the right shades of yellow, green and blue, so why not let nature be your guide and take inspiration from this daffodil picture?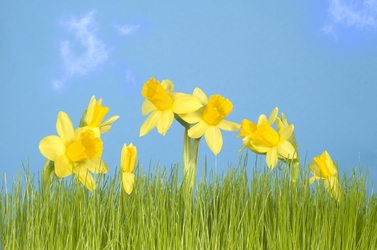 Earth Tone Color Schemes are also worth considering as they provide a relaxing and calm atmosphere for a vacation that can easily be livened up with splashes of bright accent color.
My mum's favorite flower was the snowdrop and it was uncanny how many times she saw her first snowdrop of the season on her own birthday - February 1st. Perhaps I have a sentimental reason for liking it but you must admit that the beautiful shade of green of the snowdrop leaves is lovely against the white of the flower itself making this another winning color combination.