Print This Page
Home > Color > Nature's Colors
Nature's Color Combinations
An earth tone color scheme can form the basis of a very relaxing, restful and calming property.
To me, neutral paint colors don't need to mean beige, beige and more beige but are more about taking the natural color combinations around us and using those as a guide.

Mother Nature has a way of presenting us with beautiful and balanced color schemes that are easy on the eye, and at times breath-taking.

We see fabulous color combinations all around us all the time but we are often too busy to notice.
The pink of a blossom against the dark brown of bark. Golden sand against blue sea. A silver birch tree against a sunny blue sky. Not neutral perhaps but certainly natural and somehow just 'right'.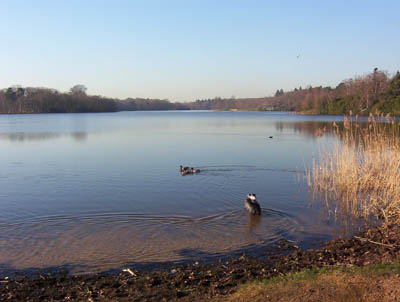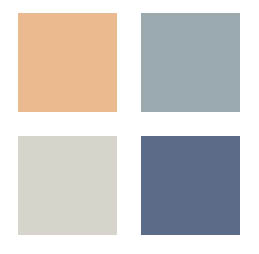 We took this photograph using a digital camera in parkland near our home - that's our dog Billie taking a paddle in the lake at Virginia Water in Surrey (well worth a visit if you are in the area).
We picked out colors from isolated sections of the picture, as you can see from the color samples and the indicator lines.
These colors can be matched to color sample swatches from decorating stores so you can purchase them as wall paint or woodwork paint.
Now you have a group of colours you can use to create wall features, and soft furnishings.
These kinds of colours are ideal for a bedroom because they are relaxing, and neither hot nor cold. They are inoffensive but not dull or boring.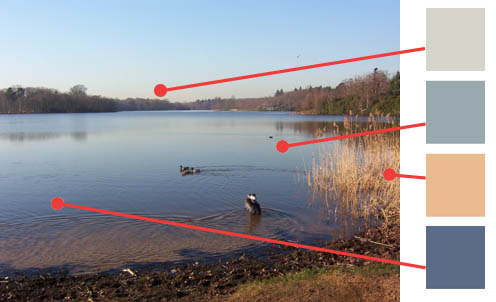 Using your favourite shades of brown as the basis of a room color schemes is worth consideration and I have often used the soft shades of brown like toffee, caramel and fudge for a gentle but warm room - and yes, I do have a sweet tooth!

Need color ideas for a kitchen? Why not go to your local fruit and vegetable market and see what you can discover? Have you ever looked at a bowl of fruit and thought the colors of the various fruits didn't go together? Of course not.
Once you start to look around you'll begin to see color scheme inspiration everywhere.
Our favourite tip - take a digital camera and go out snapping. Once you start to look at the pictures you have with color in mind you'll be amazed at what you begin to notice.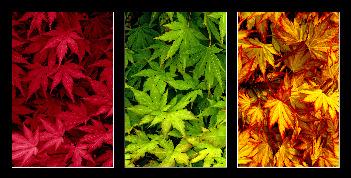 As I sit here and write this, it's a beautiful September morning here in England.
Much as I love spring, autumn comes a very close second for me and few things in nature are more beautiful than fall colours.