Home > Fabric Decor

Print This Page
Decorating With Fabric
Decorating ideas using bargain fabrics has got to be one of the cheapest, quickest and most satisfying ways to give a room a new lease of life and a one-off appeal which will really please your guests.
I love to wander around my local fabric remnant store looking for fabrics to inspire new ideas.

It is amazing how large a piece of fabric can be called a remnant - especially with the heavier, more expensive materials.

If there isn't enough left on the roll for a pair of drapes or curtains the shop often has no need for it so to them, a few $$s or ££s from you is better than it going in the rubbish.
My sister recently grabbed a bargain when our local fabric shop was disposing of numerous 'pretend' curtains that had been used in a window display. Not really much use to anyone so sold for pennies but there was enough fabric in each one for a cushion or two.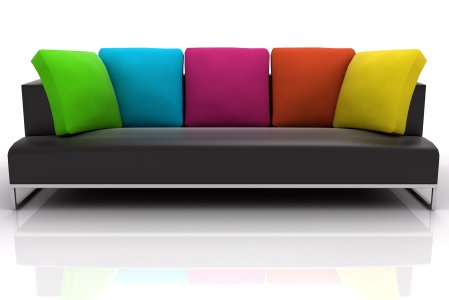 Have a look at how to make pillow covers using unwanted shirts rather than fabric.
Just think about it... the buttons and button holes are already done for you!
An idea that came to us whilst wandering around our local fabric retailer was that some of the textiles were so beautiful that they actually looked like art work or tapestry.
We bought a few remnants with the same basic coloring and used them to create our own 'masterpieces' with fabric wall panels at a fraction of the price you would pay for ready-made wall decor.
Another great idea is sewing pillow covers using unwanted fabric - remnants perhaps - or even cheaper and easier, using old skirts or dresses.
Now that's what I call re-cycling!
For one of our favourite sources of cheap fabric have a look here for ideas to use when finishing off decorating a bedroom.
You can completely change the look and feel of a room by using a bright accent color to add a splash of stylish interest to a room when turning it into new toss pillows or cushions and - like almost everything else we love - it will cost you very little in the way of time, money or skill.
Making your vacation property look a little different from all the others is important and what better way to guarantee this than by making some of the things you need yourself? It really is the only way you can be sure that no other property will have the same as you.
What's Your Favorite Decorating Idea With Fabric?
Do you have a great fabric decor or soft furnishing idea?

Whatever it is, I would love to hear about it. What it is, why you love it and how much it costs you.

Got a photo? We'd love to see it.

Want to link to a page on the internet? Perhaps your own website? Just type in the website address and I will turn it into a clickable link before adding the details to the site.

What Other Visitors Have Said
Click below to see contributions from other visitors to this page...

Fabric Covered Headboards
I think one of the best ways to update your bedroom's soft furnishings is with a fancy new upholstered headboard . I have seen a few posts around …