Print This Page
Home > Soft Furnishings > Easy Pillow Covers From Dresses
Easy Sew Pillow Covers

Sewing pillow covers using just a fabric remnant and a few minutes of your time - quick, cheap and easy!
I like the idea of using a simple rectangle of fabric and I often use a once-loved skirt or dress to make a pillow cover with an easy overlapping design.

I have even used this idea with some of my daughter's old clothes that I just couldn't bear to part with or with clothes I have bought in charity shops.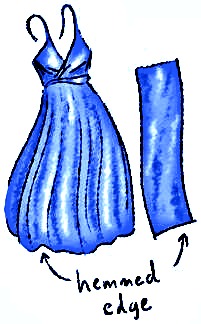 If you have a 14" cushion pad, you will need a piece of fabric about 33" x 15".
First, turn a 1" hem in one of the short edges as this will be seen when you have finished – the other edges will be tucked away inside so don't waste your time on making those neater.
If you are using a dress or skirt and cut the rectangle of fabric from the hem upwards, you don't even need to prepare the 'good' edge as you make use of the existing hem.
How lazy is that!
You can use whichever size pillow stuffing pad you like although I think this style works best with pads 16" or less.
With the good side of the fabric uppermost, place the fabric on a table.
Taking hold of each of the short ends fold them back towards the centre of the fabric and overlap them near the middle by about 4".
You will want them overlapping so that the rough edge is showing and your neater, hemmed edge is underneath.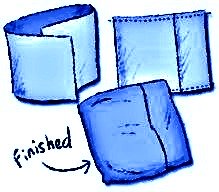 Now simply sew a straight line along the top and bottom, about half an inch in from the edge.
That is all there is to it - sewing pillow covers doesn't get much easier than this!
Just turn it the right way in and insert your filling pad into the pocket you have just made.
So now you know how to make pillow covers the quick and easy way - a really nice looking cushion cover and all you have to do is sew two straight lines. Sew easy even I can do it!
Looking for another way to make cushion or pillow covers that might be even easier than this?
Want to know how to make seat cushions?
To make simple seat cushions - perhaps for a breakfast nook or casual dining room - make them in exactly the same way but using a thinner pad or a piece of foam.
Then just simply attach two pieces of decorative string or strong ribbon to each of two corners so the pillow can be tied to the back of the chair.

What's Your Favorite Decorating Idea With Fabric?
Do you have a great fabric decor or soft furnishing idea?

Whatever it is, I would love to hear about it. What it is, why you love it and how much it costs you.

Got a photo? We'd love to see it.

Want to link to a page on the internet? Perhaps your own website? Just type in the website address and I will turn it into a clickable link before adding the details to the site.

What Other Visitors Have Said
Click below to see contributions from other visitors to this page...

My Velvet Pillow Envelopes
This may not be for everyone but personally I love to redo my furnishings using velvet and lace. I have a sewing machine so generally I just go on …