Home > Soft Furnishings > Easy Pillow Covers From Shirts

Print This Page
Making Pillow Covers
The Easy Way
Want to know how to make pillow covers? It just takes a few minutes of your time to create something unique - and easy!
Having no talent for sewing myself, I always look for the cheat's way to do anything around the house when it comes to soft furnishings.

I like the idea of having a lot of pillows on a sofa as it gives a feeling of opulence. Go for a look that isn't too contrived with a mixture of texture, color and shape – I like variety.
My sofa at home is covered in cushions – just thinking about it makes me want to go and put my feet up! You want your vacation property guests to feel relaxed and comfortable and lots of pillows or cushions on the sofa is a great way to liven up a dull sofa or add a new lease of life to an old one.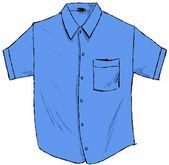 On the practical side, accent pillow covers can easily be removed for washing so better that something gets spilt on these than on the actual sofa itself which is much harder to clean.
So let's get started – sewing pillow covers for those of us who can't manage anything more complicated than sewing a straight line - simple, unique and cheap.
Using my mum's trusty old Singer sewing machine, I can manage to sew a straight line but adding buttons or zips is beyond me.
For that reason, rather than buying fabric to make covers, I prefer to use shirts which come complete with buttons and button holes.
Simply take a clean shirt (either an unwanted one of your own or one bought for pennies in a charity shop), do the buttons up, turn it inside out and lie it down on a table.
Place your stuffing pad on top, mark out a square and then allowing a little extra for seams, cut out the fabric.
You might find it helps to use a few pins at this stage to hold the back and front of your shirt together so you can cut out both at the same time.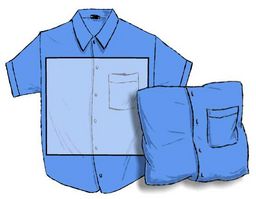 With the two squares of fabric still pinned together, sew round the four sides of the square - four straight lines, no gaps. Remove the pins, undo the shirt buttons and turn the fabric cover the right side out. Pop the pad in and do up the buttons – voila!
We joke in our house that we never lose the TV remote control as there is always a handy pocket to pop it into!
Looking for another super-easy way to make unique cushion or pillow covers?
What's Your Favorite Decorating Idea With Fabric?
Do you have a great fabric decor or soft furnishing idea?

Whatever it is, I would love to hear about it. What it is, why you love it and how much it costs you.

Got a photo? We'd love to see it.

Want to link to a page on the internet? Perhaps your own website? Just type in the website address and I will turn it into a clickable link before adding the details to the site.

What Other Visitors Have Said
Click below to see contributions from other visitors to this page...