Print This Page
Looking For Interior Design Inspiration?
Sometimes you just need a fresh pair of eyes to have a look at a room and spot an area that could be easily improved that you hadn't seen yourself or maybe just a second opinion to confirm what you had already thought.
As you can see from these before and after pictures, sometimes it only takes a couple of small alterations to change the look of a room completely and give a new lease of life to some furniture that you don't want to replace.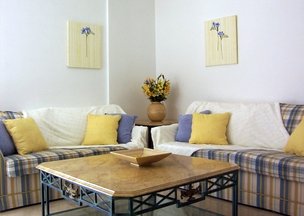 We removed an old curtain and added some fresh cushions and fake fur throws to obscure an ugly old sofa in this apartment in Spain.
The finishing touch was some homemade fabric wall panels which only took a few minutes to make. The total cost for the room was less than about $100.
Interior Design Inspiration Help
I recently had an e-mail from an English lady called Sue who felt that her vacation property might benefit from a little improvement.
Sue wrote: "I wonder can you offer me some advice. I am desperate to do up our master bed in our Florida villa. The villa is lovely (we think so, anyway) but the master bedroom is letting it down in my view. Perhaps you could take a look at our website"
Having looked at the website I replied "I do think you are right to look at up-grading your master bedroom as the downstairs of your house outshines the upstairs.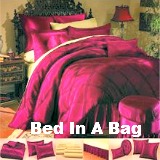 It struck me as I looked at your site that I wasn't quite sure which room was the master bedroom and maybe that is part of the problem.
If you are planning on replacing the bed linen, I would recommend buying a 'bedroom in a bag'. It will give you so many items that you will have enough left over fabric if you want to make co-ordinating wall panels or maybe to make a throw to drape over a chair in the corner of the room."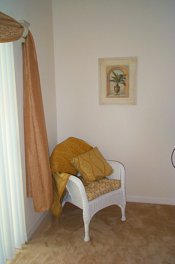 Sue replied "I plan to replace the bed and get some really lovely bedding, I also thought about painting the wall behind the bed, where a cheap, horrible picture is hanging. Thought about going with an accent wall there in tan/dark beige to pick up on the window dressing and staying with rich creams for the bedding, some lovely cream art work, and again picking up on the tan with cushions and throws, what do you think? I need interior design inspiration to get it right as I cannot afford to redo it."
I replied to Sue that I liked her plans and added "Obviously you won't want to replace your window treatment so it makes sense to take the inspiration for the colour scheme from that. Cream bedding is always classy and, as you say, you can add other shades of cream/tan/beige with cushions and throws.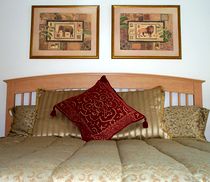 In our master bedrooms we had two pictures on the wall above the bed. Given the size of the rooms, one picture just simply wasn't big enough to make an impact and looked a bit lost and lonely so we opted for a pair of pictures instead.
I think a feature wall in one of your colors could look very nice as long as it isn't too dark but something else to consider which would also solve the problem of the dull artwork is to do this which gives your picture more impact and adds colour to the room without you having to go to the time and expense of painting the entire wall.
Do You Have A Question?
Do you have a question you would like to ask?

Need a second opinion before you start a project?

Just send it in to us and we will do our best to help.
What Other Visitors Have Said
Click below to see contributions from other visitors to this page...

I'm Clueless!
I live in a beautiful converted chapel but, like most men, I am clueless when it comes to decorating. A friend, whose taste I have always admired, …