Print This Page
Home > Soft Furnishings > Bed in a Bag
Bedroom In A Bag
A Great Source Of Co-ordinating Cheap Fabric
A bedroom in a bag set gives you so much more cheap home decor fabric than you need - it's a terrific value way to achieve a co-ordinated bedroom color scheme. Getting a totally co-ordinated room can be expensive if you buy matching ready-made items from shops or on-line outlets.
My advice would be to use extra bedding as a source of bargain co-ordinating fabric when decorating bedrooms.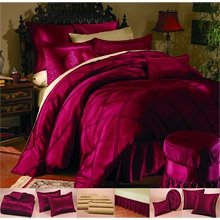 A bed in a bag set like the one pictured is excellent value for money and contains a staggering 16 separate pieces! There are bound to be some that you don't need so think of those as 'bonus extras' to be creative with.
If you don't have any left-overs of the size you require, buy an additional sheet or bed cover to make co-ordinating items for the room. This works out much cheaper than buying materials by the yard or metre - bedding is often a better source of cheap fabric than buying fabric.
It started by accident when we bought a Walmart bed in a bag set for our house in Florida. It was only after buying it that we were told by our Managing Agent that they would only be using white sheets and pillow cases for reasons of hygiene – they could be washed at a higher temperature.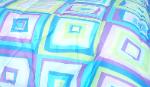 They would be using our comforters, bedspreads, valance base covers and decorative pillow shams but all the rest of the set would be leftover.
This left us with a lot of unwanted fabric that of course we couldn't waste!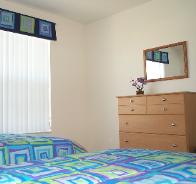 When we decorated one of the twin bedrooms, we used the fabric from a spare pillow case and bought a single co-ordinating sheet with which we made a padded pelmet for the window.
We cut up the spare pillowcase and attached sections of it to the panel - no sewing required, we used spray glue! The impact was more than we had hoped for and attracted a lot of comments from people who stayed in our house.

Looking for other ways to use your spare fabric? Why not have a try at sewing pillow covers?
What's Your Favorite Decorating Idea With Fabric?
Do you have a great fabric decor or soft furnishing idea?

Whatever it is, I would love to hear about it. What it is, why you love it and how much it costs you.

Got a photo? We'd love to see it.

Want to link to a page on the internet? Perhaps your own website? Just type in the website address and I will turn it into a clickable link before adding the details to the site.