Print This Page
Home > Decorating a Bathroom > Guest Bathroom
Guest Bathroom Color Schemes
Decorate your guest bathroom to appeal to the fun side of your guests' personality.
Are your visitors usually families? If so, decorating your guest bathroom with bright colors and a bit of individuality might fit the bill nicely as chances are this room will be used by the children or young people in the party with the 'grown-ups' using the Master Bathroom.

The family bathroom is one of my favorite rooms to decorate because it is so easy to personalise.
These gorgeous multi-colored rubber duckswould always find a home in a property I was decorating as they never fail to make me smile.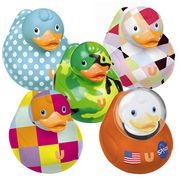 Likewise, these fun and funky flip flop towel hooks add color, style and personality.
Much as I like to add bits and pieces to a room to add color and humor, you always need to bear in mind the practicalities.
If you employ a cleaning service for changeover days, your desire to personalise your vacation property has to be tempered with remembering that you will be paying for someone's time and you don't want to be paying a lot extra because your property takes a long time to clean.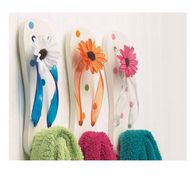 That said, things like shower curtains and towels are essential items in your guest bathroom so you may as well have a bit of fun with them.
In keeping with the duck theme, this cheerful yellow rubber duck patterned shower curtain appeals to me and is the sort of thing that I would gladly have in any vacation property that I owned.
It probably goes without saying - but I will say it anyway! - a white bathroom suite is, almost without exception, the best possible choice for a vacation property bathroom and a power shower really is essential too.
It is not enough that your vacation property is spotlessly clean - your guests need to be able to see it is spotlessly clean and I think there is nowhere that this is more true than in a bathroom.
For that reason, I would also opt for white towels or at least a very pale colour. I would always wonder what stains were lurking if I was presented with a very dark towel whilst on vacation.
Wall tile is an expensive element of decorating your bathroom and it is good news for those of us trying to keep costs down that the fashion is moving away from fully tiled bathrooms to just using tile in the very wet areas such as a shower enclosure or backsplash area behind the basin.
Where would you like to go now?
Have A Great Bathroom Decorating Tip To Share?
Do you have a great bathroom decor tip that you are really proud of? Share it!

Tell us all about your great bathroom makeover and send us a picture of the end result.