Print This Page
Home > Decorating a Bathroom > Bathroom Photo Gallery
Master Bathroom Pictures
Stunning master bathroom pictures in our bathroom photo gallery.
Some of the best bathroom photos I can find to inspire you and get your creative juices flowing.
I hope you like this small gallery of stunning ideas for bathroom decor and design.
Any of these would be fabulous in a vacation property giving a feeling of luxury and style - particularly if it was en-suite to the Master Bedroom.
Generally, a white bathroom suite is the way to go and 99% of the time that would be my recommendation. There is something I really love about the use of strong color though in some of these images - especially the red one above - but notice how the suite itself is white and it is one of the walls that gives the room the 'wow' factor we all want?
Imagine you are advertising your vacation property on a site with hundreds of other similar properties. Wouldn't one of these pictures catch your eye and encourage you to look further? It certainly would for me.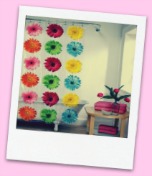 I suppose the thing to remember really is that not only must your vacation property look beautiful, it must photograph beautifully too.
I suppose along with the kitchen and a view of the pool, master bathroom pictures are amongst those I would study most closely when choosing a property for my vacation.
Good lighting plays a huge part but a room that is lacking in color will never stand out when compared with the thousands of other properties your prospective visitor will be looking at.
I am not generally a fan of corner suites but you can see in the picture above that sometimes they can add a little interest to a bathroom and perhaps may be the answer for you depending on the space you have available.
If you click on any of the above pictures a new window will open up with a larger version of the same picture.
Have A Great Bathroom Decorating Tip To Share?
Do you have a great bathroom decor tip that you are really proud of? Share it!

Tell us all about your great bathroom makeover and send us a picture of the end result.