Print This Page
Home > Decorating a Bathroom > Master Bath
Master Bathroom Design Ideas
Your master bathroom design ideas must include things to help your guests relax, pamper themselves and recharge their batteries - luxuries must be part of your master bath plans.
Looking for ideas that will both please and impress your guests? Simple - they want to be able to relax and pamper themselves and not have to clean up afterwards!

When I am taking a break on vacation, a luxurious bath or shower room is a must.

We all lead hectic lives so whether your guests include busy stay-at-home moms, exhausted executives or just the average person taking a break from the 9 to 5 grind everyone deserves a vacation which allows a bit of 'me time' to relax and pamper themselves.
Your Master Bath is likely to be en-suite to your Master Bedroom so the color scheme will be dictated by that. You should always aim to use the same basic color scheme for two rooms that open onto each other.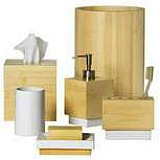 If you took our advice and used gold as one of the colors for the Master Bedroom you may opt for something like these lovely bamboo colored bathroom accessories as they will add a gold tone without being too garish.
You can, of course, use gold fittings in the bathroom if you prefer but you need to approach this with caution.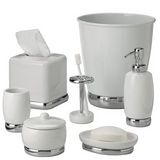 All too often, gold fittings can suggest cheap and tacky rather than luxurious so will give the opposite effect to that which you are trying to achieve.
Whatever color scheme you are trying to co-ordinate with, elegant white and chrome bathroom accessories are both stylish and timeless - a classic look.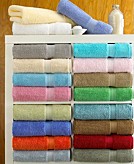 Choosing to purchase a bathroom accessory set in white gives you the opportunity to add color, if you wish, with the provision of bright towels and a co-ordinating shower curtain or other colorful bathroom decor ideas like pictures, wall hangings and ornaments.
As always, bear in mind that this is a vacation rental property and not a family home.
Many of your guests will be used to staying in hotels and will appreciate - and perhaps even expect - a number of 'goodies' in the bathroom (and no, I wasn't meaning Bill Oddie!) such as bubble bath and body lotion.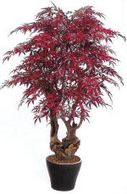 It is your choice whether you choose to go down this road or not but the cost needs to be borne in mind as they will need to be replaced after each guest leaves whether they have been used or not.
The Master Bathroom in your own home may have a number of scented candles but, for safety reasons, I wouldn't choose to put them in a vacation property.
Plants are attractive in a bathroom but, as you won't be there to water them, a silk plant is probably your best option - even I can't kill those...! A silk Japanese maple plant is a good option and adds a touch of color as well as being available in a variety of sizes.
Where would you like to go now?
Have A Great Bathroom Decorating Tip To Share?
Do you have a great bathroom decor tip that you are really proud of? Share it!

Tell us all about your great bathroom makeover and send us a picture of the end result.