Print This Page
Home > Decorating a Bathroom > Bathroom Color Schemes
Stunning Bathroom Color Schemes
The best bathroom color schemes for your vacation property will nearly always start with bright, fresh, clean white.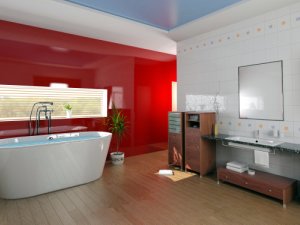 Questions relating to decorating and upgrading bathrooms feature more regularly in my e-mail 'postbag' than those about any other subject. I wonder why?
Certainly it is one area of the property where you need to keep in mind that it is a vacation property and not your home - perhaps more than any other area.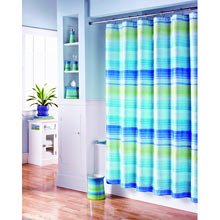 When it comes to the color of the bathroom suite itself my answer is always white, white or white. If you really push me for an alternative I would say ivory. But really, white.
Apart from the look, you must remember that your visitor will need to be sure that the bathroom is spotlessly clean and nothing beats white for that. In my own home I like a white suite but then liven it up with brightly colored towels - a lovely shade of raspberry pink at the moment - but this may not be possible in a holiday home.
In Florida, our management team had a policy of only allowing their homeowners to have white towels.
This meant that all towels could be washed together (rather than each homeowner's towels having to be kept separate) and, more importantly, they could be washed at a higher temperature to ensure they stayed clean.
Over the last few years the fashion seems to have moved away from fully tiled bathrooms to bathrooms that are painted (with a specialist bathroom paint) but have tiling or glass in the very wet areas such as the back-splash area behind a hand basin and a shower cubicle.
I love the idea of the cut-to-size glass panels as tile grout inevitably discolours with age whereas the glass panel will stay looking good for longer.
I would suggest that the bulk of your tiles should be white - because they look clean and are also cheap - but you may want to add a bit of color to stop it looking too sterile.

A contrasting strip of colouful tiles running round the room and/or a fun and colourful splash-back should do the trick.

Unless your shower area comes with a door, you can also add color with a bright shower curtain.



Bathroom color schemes in vacation properties need to rely upon accessories for color. In your own home you may have candles but of course that would be unwise in a vaction property because of the danger of fire.
Plants and flowers are a good option and personally I would save myself the aggravation of real flowers and opt for silk instead. There are some beautiful silk flowers available nowadays at reasonable prices and they are very easy to look after.
One of my favourite bathroom color schemes is black and white which is pretty hard to beat. It looks fabulous with a traditional style - a Victorian roll-top bath for example - and is equally at home with a contemporary minimalist look.
One final thought before deciding - is this an en-suite bathroom? If so, don't forget that the two rooms need to be linked color wise.
Where would you like to go now?
Have A Great Bathroom Decorating Tip To Share?
Do you have a great bathroom decor tip that you are really proud of? Share it!

Tell us all about your great bathroom makeover and send us a picture of the end result.