Print This Page
Home > Individual Rooms > Breakfast Rooms
Breakfast Nook Decorating Ideas
The most successful breakfast nooks focus on the practicalities as well as the aesthetics. If it isn't wipe clean, it must be machine washable. If you remember that, you won't go far wrong!
The larger vacation properties in Florida benefited from a breakfast area in addition to Formal Dining Rooms.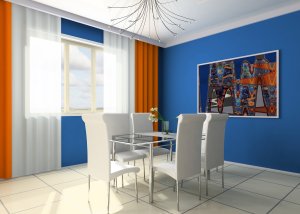 Usually open-plan to the Kitchen, breakfast nooks are casual eating areas which lend themselves to being a good place to feed children - at any time of day.
With that in mind, we opted to extend the tiled flooring of the Kitchen into the breakfast area and decided against a rug under the table although it would have looked nice.
I do like to look after other people's property when I am staying in a rental home and I fuss round the children – being a complete pain! – if they are eating and I think there is a danger of them dropping something on the carpet or rug.
With that in mind, I think you are taking a potentially stressful situation away from a parent by leaving the floor just with wipe clean tiles as they know that no matter what is dropped, it can be cleared away in just a few minutes.
For ease of cleaning and in-keeping with the casual, child friendly feel we had a wipe clean table top and place mats in our breakfast nook and just added a simple but robust table decoration that could easily be moved.
We also found it to be a useful place to sit and catch up on e-mails with a laptop and the basket of leaflets of local attractions and discount coupons for local restaurants was left here along with details of the many pizza delivery companies in the area.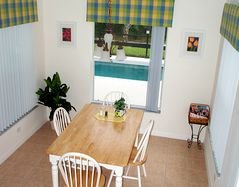 We left the room as plain as possible so as not to detract from the beautiful view of the pool and trees beyond so simple Padded Pelmets at the windows and a couple of prints on the wall were all that we added.
We kept a pad and a pen on the table here and during the course of our own vacation, every time one of us said "Wouldn't it be useful if we had a…" we would make a note.
We tried to provide our guests with everything they could possibly want by providing for them everything we wanted for ourselves.

Looking for a cheap, fun and effective way to welcome your new guests as soon as they arrive?