Print This Page
Home > Wall Decor > Wall Stickers
Vinyl Wall Decals
Wall decals or stickers are a terrific idea for those of us who like to ring the changes when it comes to contemporary wall decor.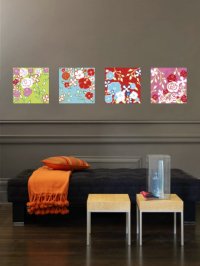 Made of vinyl and backed with low tack adhesive, they allow ease of repositioning without causing damage to paint. They can be applied to walls, windows and furniture and then simply peeled off and moved if you change your mind or just simply decide on a new and different look.
Removable wall decals give you the option of changing your mind and rather than anything going to waste, they can simply be used elsewhere.
A lot of people are understandably nervous about spending a lot of time and money on decorating and then realising that they have made a terrible mistake and it looks awful.
Wall decals (also known as wall applications, wall stickers or by the brand name 'Wallies') allow for a little more 'trial and error' than paint and I love the fact that you can move them around the room or in fact move them from one room to another.
Personally I think it is another wall décor option that needs to be used with a light touch as, if overdone, they can look a bit tacky. They can look stunning however when used carefully and offer a good alternative to hanging a more traditional picture in a room.
Do you have a very plain white Guest Bathroom that could do with a little livening up? How about a few little sea creatures crawling along the edge of the bath tub?
A Game Room is another room that would be appropriate for this type of décor and sports themed stickers are particularly popular and a good alternative to art posters.
Modern kitchens in new build properties can be plain to the point of clinical and adding a unique twist to your cupboard doors with an occasional decal will add a stylish touch.
Are your kitchen cupboards showing a bit of wear and tear? You will inevitably get to a point where your kitchen needs completely replacing or at least needs new cabinet doors but if all you really have is a few annoying marks here and there that you can't get rid of, covering them with an appropriate decal could be the answer.
I once used vinyl decals on some second-hand bedroom furniture I had been given and it actually made the slightly dated furniture look more contemporary as well as covering over a few damaged patches.
What's Your Favorite Wall Decor Tip?
Do you have a great wall decor idea?

Whatever it is, I would love to hear about it. What it is, why you love it and how much it costs you.

Got a photo? We'd love to see it.

Want to link to a page on the internet? Perhaps your own website? Just type in the website address and I will turn it into a clickable link before adding the details to the site.