Print This Page
Home > Wall Decor > Mural Ideas
Wall Murals and Trompe L'Oeil
Wallpaper or self-adhesive wall murals are a really interesting choice for a wall covering with a difference and a Trompe L'oeil style is always a good option. Location appropriate scenic views are very popular too - especially a beach or mountain view.
Some of the larger ones - especially Trompe L'Oeil wall decor (French for 'deceive the eye') are quite lovely. These are the ones that might look like an open window and the view beyond.

Equally, a photo wall can make a stunning impact on a large plain wall, perhaps a conservatory or sun room.

There are many themes available such as a bookcase - great for a library or den area.
Many have a sports theme that would be just right in a Game Room - especially if you have gone the route of converting a garage into a game room and have large, uninspiring whitewashed walls to cover.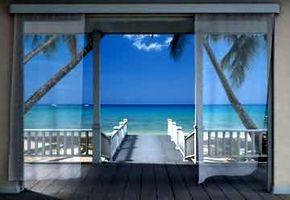 Stick on wall murals are particularly useful as you can easily remove them and re-apply if you make a mistake or replace them completely when you feel a change would be good.
Another option would be to have a hand painted scene on one wall in your vacation property. This can be designed to reflect your style and also the area where your property is located.
If you don't have the skills yourself, one cheaper option would be to contact a local art club and ask if any of their members may be up to the task.
My personal favourite though has to be the photo wall mural. Some of them are not too large so may suit those who aren't quite looking for a full-on whole wall design but something a little smaller. Some come with a picture hanger strip, some are self-adhesive and others are more like a wallpaper and have wallpaper paste applied in order to hang.
If you have a room in your vacation property that looks a little bare or dull then give this idea some thought.
What's Your Favorite Wall Decor Tip?
Do you have a great wall decor idea?

Whatever it is, I would love to hear about it. What it is, why you love it and how much it costs you.

Got a photo? We'd love to see it.

Want to link to a page on the internet? Perhaps your own website? Just type in the website address and I will turn it into a clickable link before adding the details to the site.