Print This Page
Home > Patio Decor > Patio Furniture
Inexpensive Patio Furniture
Comfortable, inexpensive patio furniture is essential if you have a pool home or indeed any property with a usable outdoor space.
It is bound to be an area where your guests will spend a lot of time and you must ensure that you make it as luxurious and inviting as possible.

Our pool home in Florida, had a large covered area with comfy seating for 10 people and a table and chairs for 'al fresco' dining.

We felt that the standard outdoor furniture pack provided was insufficient for our guests needs so splashed out on additional sun loungers and side tables and up-graded the table to a much larger one.
If your house sleeps a maximum of ten people, why would you want a table that seats only six?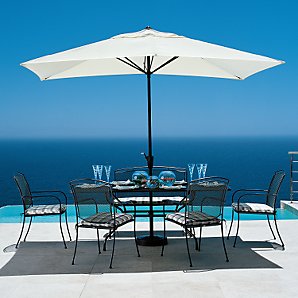 We knew that it would annoy us on our own holidays if we couldn't all sit and eat together so suspected that our guests may feel the same.
We were planning on charging top dollar for our vacation property and wanted to be able to call it luxury and know that this was true.
Whatever your taste and budget there is something suitable for your property but do bear in mind that this will be a very frequently used part of your vacation home.
Buying cheap furnishings will most likely be a false economy with items needing to be replaced on a regular basis. It's not just about cost - regular replacing of patio furniture takes up your time as well as money. Buying furniture of a high standard and a timeless style like those pictured here from British retailer John Lewis will be a good investment.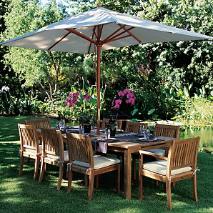 We always look for value for money but chose the more expensive but robust furniture rather than the cheapest option - cheaper in the long run I'm sure.
You may find it makes sense to spend a little more on your patio furniture for something that not only looks stylish and is comfortable but also stand the test of time.
Your guests may be scattered around your outside space so provide a number of small side tables that can easily be moved to suits your visitors needs.
Guests won't want to leave their drinks on the ground next to their sunbed - especially in an area where ants or other insects can be a problem - so a table within arms reach will be appreciated.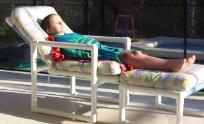 Rather than choose full length sunloungers, we opted for reclining chairs and footstools instead which, when placed together, would make a full length lounger.
This gave our guests the flexibility to lay down or sit up and also meant that we didn't need additional chairs for the outdoor dining table as these could 'double up' for both purposes.
They weren't the cheapest option but represented good value for money by being versatile.
Would you like ideas for Patio Pictures and Outdoor Wall Decor?