Print This Page
Home > Soft Furnishings > Fabric Wall Panels
Fabric Wall Panels
Creating your own textile masterpiece is so easy that I might just award it the prize for best idea on this site! Fabric wall panels are quick, simple and inexpensive so in just five minutes you'll have stylish, unique wall decor for your property.
When you are decorating a property and are short of time and money, this is a really great idea to pull out of your decorating bag of tricks.

If you are buying framed pictures for each room this can work out expensive. Being able to make some of the artwork yourself at little cost is very useful.
"If you have been looking for our tip for the easiest project, you just might have found it!"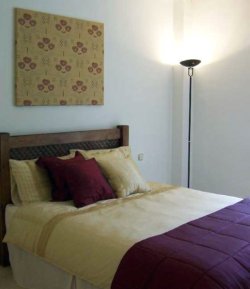 If you find a fabric that you like which matches or better still, contrasts with your room décor, why not stretch it over a canvas, secure it with a staple gun and hang that?
A metre of fabric will create a wall panel 36 inches (92 centimetres) square. That should be big enough to make an impact in any room!
When we decorated an apartment in Puerto Banus on Spain's Costa del Sol, we only had a couple of days and a few euros to do a complete makeover and shopping for art was something we just didn't have the time or money for.
We had bought all the bedding at home to take with us and had bought some extra co-ordinating fabrics 'just in case'. I hate to waste money but it can be difficult if you are decorating a property away from your own home and have to take everything with you. You can't just pop to the shops for something extra if you run short so you may need to over buy.
In the end we used the same basic idea in several rooms.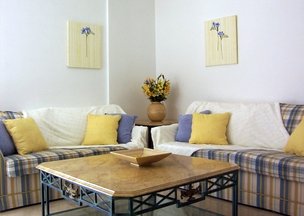 We were lucky enough to have a small artist's supply shop just down the road and at very little cost we purchased several canvases in asssorted sizes.
We simply stapled our spare fabric to the canvases for a very stylish and simple look.
For the lounge, we bought a fabric that not only brought together all the colors in the room, but had a flower motif that looked almost like a water colour painting.
Within minutes we had two lovely fabric wall panels hangings behind the sofas which proved to be enough to finish off the corner seating area beautifully.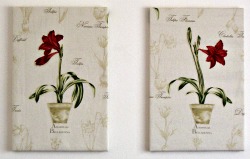 On another occasion, having bought a striped fabric in cream, rust and sage green we found a second fabric by the same designer using the exact same color palette but with an amaryllis design. We used this to make a pair of wall panels with a tapestry look which was ideal in this formal dining room area.

To make your own textile art in this way you need only an artist's box canvas, some fabric and a staple gun. You need to pull the fabric as tightly as possible to give a nice, smooth finish so you might like to enlist the services of a friend to help as this is easier if you have one person holding the fabric in place and another using the staple gun. If the fabric has any wrinkles at all it is worth spending a few minutes ironing the fabric before you begin.
Literally a couple of minutes from start to finish and you have your own unique artwork ready to hang on the wall.
What's Your Favorite Wall Decor Tip?
Do you have a great wall decor idea?

Whatever it is, I would love to hear about it. What it is, why you love it and how much it costs you.

Got a photo? We'd love to see it.

Want to link to a page on the internet? Perhaps your own website? Just type in the website address and I will turn it into a clickable link before adding the details to the site.