Print This Page
Home > Window Treatments > Blinds and Shades
Door And Window Blinds
Door and window blinds are a cheap and easy way to dress your windows and doors with a designer look.
There are so many different types of window blinds and shades with each one performing a functional as well an aesthetic role.

Window blinds are not only ideal for allowing privacy when needed but also shading a room from the glare of the sun.
Types of window blinds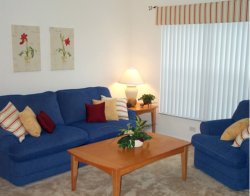 Vertical window blinds are often amongst the items likely to be included in your furniture pack if you are buying a new build property.
I have absolutely nothing against them, they do their job well and it would be a waste of your time and money to replace them.
I would suggest though that you always make them look more attractive and less purely functional by adding a colored padded pelmet to cover the heading at the top.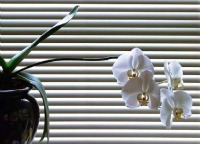 Venetian - often a good option.
Available in as many colors as you can imagine and in a variety of materials. Can be either custom made or bought in a local DIY store and trimmed down to size.
Venetian blinds are one of the most popular styles of door and window blinds and I have them in my home.
In the kitchen, the door blind only differs from the window blind in that it attaches at both the top and the bottom of the window frame to prevent it from flapping around when the door is opened and closed.
Roller - again, easily available locally in a huge range of fabrics and colors.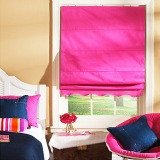 Roman - of all the different types of blinds for windows, this is my favorite. Custom made in the fabric of your choice they can be made in fabrics to co-ordinate with other elements in the room such as cushion covers. A clean and classy option.
Velux – perfect for sloping ceilings.
Wooden – a warm look for Venetian Blinds, great for creating a cozy look.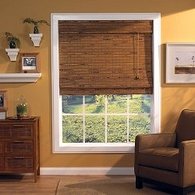 Bamboo – usually of the 'roll up' style – great for bathrooms and very economical. Also a really good option if you like a natural, neutral colored room.
Pleated - often used for small windows where you want a bit of light to be allowed in through the thin fabric but perhaps have an unpleasant view to obscure.
Conservatory Blinds – if you have a conservatory or sun room in your property, the addition of blinds can be quite a large expense. In a sunny climate you will need them for both the ceiling and windows to keep the sun out to stop your guests over heating.
All of these have their benefits and so you must decide which suits your needs, taste and pocket best.
Bearing in mind the desire to make a profit on your vacation property however, be careful not to get too carried away and start ordering bespoke custom made plantation shutters for hundreds, if not thousands, of dollars when a $10 off-the-peg window blind from your local Home Depot would do.
One area where I would suggest money would be well spent is on any windows that are not a standard size.
A lot of houses now have round or fan shaped windows to add interest which can be a nightmare for the DIY window dresser.
If you have any unusual shaped windows for which you feel a window treatment is needed I would suggest that you buy one – it may cost you money but it will certainly save you time!
What's Your Top Tip For Easy Window Treatments?
Do you have favorite window dressing ideas? Do you have a tip for a quick and easy window treatment? Some no sew window treatments you would love to share? If so, we'd love to hear from you.

Got a photo? We'd love to see it.

Want to link to a page on the internet? Perhaps your own website? Just type in the website address and I will turn it into a clickable link before adding the details to the site.

What Other Visitors Have Said
Click below to see contributions from other visitors to this page...

Venetian Blinds
I needed a window covering for my guest bathroom and chose a silver colored venetian blind which looked great with my chrome taps, door furniture etc. …