Print This Page
Home > Decorating a Bedroom > Guest Bedroom
Guest Bedroom Decorating Ideas
Bedrooms To Appeal To All Ages
Guest bedroom decorating ideas that will appeal to everyone? It is hard - but not impossible - to use bedroom color ideas that will be liked by almost all of your visitors - whoever they may be.
I prefer decor that is light, bright and colorful and funky bedding like this pop art flower set.

It is contemporary enough to appeal to your young guests but in no way silly or quirky so as not to alienate the older generation.

A six year old girl will have very different taste to 'Grandpa'. What you need in a guest bedroom is not something that some people will love and some people will hate but something that everyone can live with quite happily.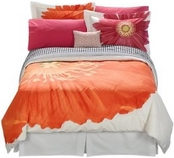 For that reason, I have never been a fan of themed rooms. On one of our trips to Florida we looked at a rental property that had a 'Scooby Doo and Shaggy' room.
Fun for a young boy perhaps but for a middle aged woman? Perhaps not... equally, we couldn't put Grandpa in a Disney Princess room!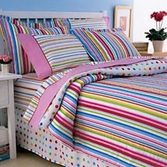 Often though the guest bedroom will be occupied by children so you don't want to go for anything too dark or formal.
This cheerful stripe and spot set is lovely and bright without being too age or gender specific - just what you want in a vacation property.
Keep the word 'vacation' in your mind when you shop for bedding and you won't go far wrong. Something cheerful and bright is called for and there are some great things in the high street shops or online now.
This beautiful blue set brings to mind summer skies and the sea - lovely.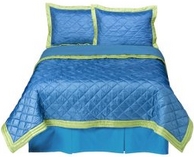 There comes a point where you have to accept that your vacation property is not going to appeal to everyone but it does have to suit the needs of your own family.
If you are lucky enough to not need to squeeze every cent of rental income you can from your property, then you can indulge your own taste a little more with guest bedroom decorating ideas, styles and colors that will appeal to your own family.
When my sister and I bought a house jointly in Orlando, we wanted one with two identical Master Bedrooms - we didn't want to be arguing over who got the best room every time we visited!
This is quite unusual and so a basic house design had to be re-drawn to suit our needs. We actually had to change a house from five bedrooms to four -financial suicide, we were told.
In the end though, the house appealed to a large number of visitors from England who were either a group of two families vacationing together or a mum and dad treating the grandparents to a trip of a lifetime. By buying a vacation property that suited our needs, we stumbled upon a niche market that we were glad to fill.
Everything we did in the house was done with renters in mind but never at the expense of our own family vacations.
I have a daughter and a nephew who are regularly part of our vacation party so we looked at modern bedroom designs that would appeal to both boys and girls - blue being a popular color with both we used shades of blue quite a lot.
Where would you like to go now?
Do You Have Something To Say About Decorating A Bedroom?
Whatever it is, I would love to hear about it.

Whether you have a question, a comment or a great decor idea - we want to hear all about it.

Got a photo? We'd love to see it.

Want to link to a page on the internet? Perhaps your own website? Just type in the website address and I will turn it into a clickable link before adding the details to the site.