Print This Page
Home > Wall Decor > Accent Tiles
Accent Wall Tile
Accent wall tiles are an inexpensive way to add color to any 'wet' room in your property.
Tiling as a form of wall decor? Why not?

As someone who once took on the huge job of completely re-tiling my kitchen at home I can honestly say that it is a job for the professionals in my opinion and tiling an entire room is certainly not something I would be keen to undertake again...

That said, undertaking ceramic wall tiling for a small area is not beyond the ability of most enthusiastic amateurs and is a good way of adding a bit of color to a room.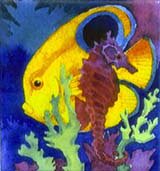 First of all, forget the plain, and quite frankly boring ones you have seen piled high in your local do-it-yourself store.
Think more about those brightly colored accents available – you know, the ones that you are only supposed to use a few of, spread randomly throughout a large wall.
If you want to add interest, colour and texture without spending a fortune, use these sparingly in a row or square, whichever combination best fits your available space.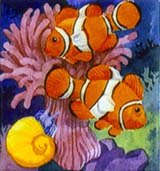 Do you really need to spend the time and money doing the whole room?
Probably not unless it is to protect the walls from water damage. Increasingly though, in both kitchens and bathrooms, professionals are looking to cover only a small 'splash-back' area behind a basin or sink unit and not the whole wall.
It is far more cost effective to use a specialist bathroom or kitchen paint to protect the bulk of the walls and then tile just a small area.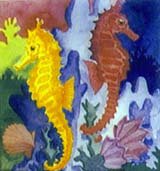 There is a huge range of subjects to choose from so pick themes to suit your rooms. Here are a few of my favorite accent tile options:
Bathrooms: Bathing beauties, frogs, ducks, beach huts (very English!), swimmers, tropical plants and palm trees and brightly colored fish like those shown here which are actually photos of the ones we used in our half bathroom (downstairs loo to us Brits!) in Orlando
Kitchens: Coffee beans, wine bottles, fruit, bread, chefs and dancing chillies!
What's Your Favorite Wall Decor Tip?
Do you have a great wall decor idea?

Whatever it is, I would love to hear about it. What it is, why you love it and how much it costs you.

Got a photo? We'd love to see it.

Want to link to a page on the internet? Perhaps your own website? Just type in the website address and I will turn it into a clickable link before adding the details to the site.