Print This Page
Home > Wall Decor > Accent Walls
Painting Accent Walls
Painting an accent wall as a feature in any room is both time and money saving so to me, it ticks all the boxes.



Choosing to paint an accent wall or a feature chimney breast or alcove adds instant color, style and interest to a room without the time and cost of complete redecoration.

There are many reasons why you would choose to paint part of a room rather then all of it.

The main reason that comes to most peoples' minds is saving time.
Quite often time is limited when decorating so using your time effectively is crucial - thinking about painting a limited area to create a point of interest is a great idea.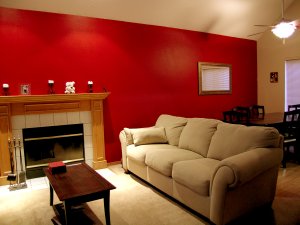 We once had large fitted wardrobes in a bedroom where the white painted woodwork was looking 'past its prime' and in need of re-painting.
Woodwork painting in any room takes a lot more time than adding color to your walls.
We chose to deal with this situation by painting the walls around the woodwork in a colour to match in with the other décor in the room.
The effect here was to immediately make the woodwork look better than it did before yet we spent a fraction of the time we would have, had we decided to repaint the woodwork. It was really the contrast with the white walls that made the paintwork look yellowed - next to a coloured wall, it looked fine again.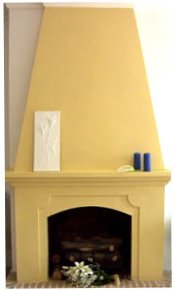 Another occasion where a bit of creative wall decor and a small amount of wall painting can make a huge difference and positive impact is where you have a chimney breast. Open fires are a lovely feature of a room but the surrounding area can soon look dirty compared with the other walls in the room.
If you re-paint the chimney breast in the same colour as the walls they will look dirty by comparison and the more you do, the more that needs doing. That is a never ending cycle.
The option that we chose in this situation was to only paint the chimney breast, again in a co-ordinating colour matching the décor of the rest of the room. This immediately made the other walls look better and also created a focal point.
This 'trick of the trade' can also be used to make alcoves in rooms stand out. Highlighting alcoves adds an interest into a room where there may not have been one before.
If you have a room where there is no obvious feature why not create one yourself? Creating a feature by painting an accent wall or even just a part of a wall will add the same interest, take very little time and certainly costs less then getting builders in to add a focal point!
What's Your Favorite Wall Decor Tip?
Do you have a great wall decor idea?

Whatever it is, I would love to hear about it. What it is, why you love it and how much it costs you.

Got a photo? We'd love to see it.

Want to link to a page on the internet? Perhaps your own website? Just type in the website address and I will turn it into a clickable link before adding the details to the site.

What Other Visitors Have Said
Click below to see contributions from other visitors to this page...

What Curtains With Red Accent Wall?
Help - we painted an accent wall red, the other walls are sort of sand (a little tan looking). The furniture is green and red and sand stripe. …
Feature Walls
I am going to use wallpaper on one wall in a room where one wall has a chimney breast. Is the chimney breast wall the main feature wall? Andrea's …