Print This Page
Home > Create Your Own Art > Display Art
Cheap Decorating Ideas

When it comes to cheap decorating ideas, one of my favourites is to take something cheap and make it look a million dollars.
Displaying art to its best effect is an art in itself. You will probably want to buy art - posters, photos, paintings - to add a vital finishing touch to most rooms in your vacation property but knowing how to buy right is only half the story - you need to know about displaying art too.
Quite simply, hanging pictures correctly can make the difference between a beautiful impact and something that is not quite right...
Don't waste a painting, drawing, print or photograph that you love by hanging it in a way that doesn't do it justice.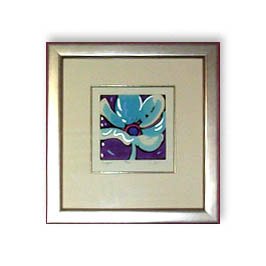 Have you ever bought a picture because you have seen it hanging somewhere - perhaps a friends house or art gallery - but been disappointed by it when you have bought it for your own home? I have, and there were two main reasons why.
A large Simon Bull original is, sadly, out of my price range but some time ago I bought a limited edition print of Simon Bull's painting 'Sugar'.
Much as I loved it, I had to admit that it just looked wrong when I hung it in my home.
Firstly, the white wall on which it was placed detracted from, rather than enhanced, the painting and looked dirty next to the white mount (mat) that surrounded the picture.
Secondly, the picture was far too small for the size of the wall it was on making it look a bit 'lost'.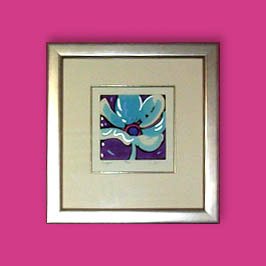 I wasn't about to redecorate the whole room just to make the picture look better but I wasn't going to give up on my lovely print either. One solution solved both the problems.
I picked one of my favourite colours out of the picture and with a bit of masking tape and a small tester pot of paint, painted a panel on the wall behind the picture in a gorgeous shade of bright shocking pink.
This not only gave the illusion of the picture being bigger than it actually was but it also brought out the vibrancy of the colour in the print.
I have used this tecnique many times in all sorts of rooms and it has never failed to create discussion from people who have seen it, many of whom have said that this way of displaying art certainly brings out the less obvious colors in the painting and makes more of a statement.
Another way to make something small have a greater impact is to spend less on the picture but spend more on having it well mounted and framed.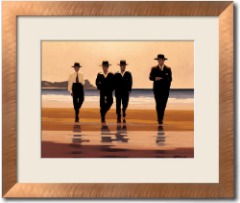 The Billy Boys by Jack Vettriano is a lovely picture but you can see how the people at art.com have greatly enhanced it by adding a 1.5" Soho Bronze wood frame with a foil finish and an off-white mat.
One mistake that people make over and over again is buying artwork that is simply too small for the expanse of wall on which it is placed.
Hanging art on a painted coloured panel behind the picture or enlarging the overall size with mounts, mats and framing can solve the problem for you if this is a mistake you have made.
Never underestimate how stunning a cheap print can look if it has a good mount or mat and a beautiful frame around it.
Don't forget to think outside the box when you come to buy art for your vacation property as this doesn't just apply to paintings. In fact, rather than buy traditional art for a kitchen, we once had a delightful Clarice Cliff teapot collection drying-up cloth framed which was very effective and a great talking point. This was one of my favourite cheap decorating ideas as not only did it give us something unique but made good use of something we already owned - I hate waste!