Print This Page
Home > Create Your Own Art > Splatter Painting
Splatter Painting!
Make a splatter painting for some fun-to-do contemporary cheap wall decor - find your inner Pollock!
A splatter painting is fun and easy to create.

With only a cheap canvas and a bit of leftover wall paint you can create art that co-ordinates beautifully with your room decor at a fraction of the price you would expect to pay in an art gallery.

If you think your painting skills don't quite stretch to producing a work of art, don't worry.

You may not be able to paint well but can you stand back and throw?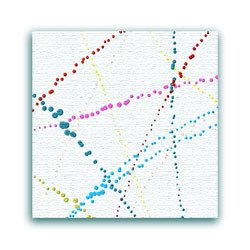 Buy a canvas from your local artist's supply store and either prop it up on an easel or put it on the floor on an old sheet - either way, I suggest the back garden or yard rather than indoors.
Dip a large brush in your wall paint and - swoosh!
Bring your arm down sharply and leave a trail of splatter on your canvas. Use three or four different colors and build up as much or as little color as you like.
Sometimes here, less really is more and leaving a lot of white space may look best but it is really just a matter of personal taste.
Voila - instant canvas wall art!
Creating contemporary wall decor in this way gives you the opportunity to make stylish but cheap wall decor that is not only easy and fun but can be used to bring together all the colors of a room - especially when using leftover wall paint.
If you are hanging the picture on a colored wall, don't forget to use that color in your picture as it will really show the picture off to the greatest effect.
See how different this picture looks when shown mounted on a white, pink or blue background?
I don't like the painting too much when shown on a white wall but, to me, it comes alive when shown with a pink or blue background.
The beauty of this is of course you don't even have to buy extra paint as you will be using leftovers from your wall decorating.
Another idea is to get small pots of wall paint in two, three or even four co-ordinating colors and paint bands or stripes on a canvas.
All you need is a canvas, a couple of brushes or small rollers and a roll of decorator's masking tape to keep the edges neat.