Print This Page
Home > Floor Coverings > Entrance Hallway
Entrance Hallway Decorating
Entrance hallway decorating is so important to get right if we are to give our guests a positive first impression so let's roll out the red carpet and dust off the welcome mat.
As with almost all areas of the property, good hallway decor is a balancing act between the need to create a great first impression with an attractive area and provide a practical and useful space.
We've all been there. It's the first day of your vacation and you arrive at the property you have rented.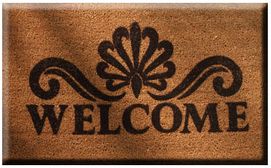 You open the door and - your heart sinks with disappointment as you step inside.
You spend the first hour of your vacation wandering around the home inspecting everything with a very negative attitude.
On the other hand, you walk into the property and...
'Wow! - it's amazing!'
You spend the first hour of your vacation wandering around your vacation home away from home inspecting everything and gushing about how fantastic it all is.
The first impression a visitor gets when they enter your holiday home is so, so important that a lot of care must be taken. As far as I'm concerned, a proper 'Welcome!' entrance doormat is a must.
As always though, don't forget that this is a business. We want to make sure that our visitors have a fantastic vacation but also that they leave the property in the great condition they found it.

When buying your entrance furniture you need to remember that much as the look is important, your furniture has a job to do in this area.
If you have carpet in your hallway you want to make sure that there is somewhere for guests to leave their shoes as they enter.
A shoe rack positioned inside the door will be a visual reminder to visitors to remove their shoes as they enter in the same way that providing a place to put wet umbrellas or coats all goes towards helping your property stay clean.
I really believe that most of your guests will want to keep your property looking nice but you have to make it easy for them to do so.