Print This Page
Home > Window Treatments > Drapes
Choosing Curtains and Drapes
Simple window curtain ideas turn beautiful fabric into window dressing that adds style and elegance to any room.
Of all the various ideas for interesting window treatments available, my personal choice for most windows is often a padded pelmet to add colour and create a contemporary look.

Sometimes though there are occasions when you require something heavier or more opulent with perhaps a ready-made pelmet or valance.
Vacationers expect a touch of luxury in a Master Bedroom and we have found that using a complete bedroom-in-a-bag is the most convenient way to do this on a budget.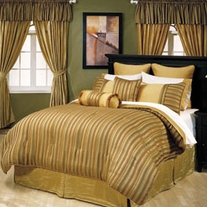 We were delighted with the range and quality of bed-in-a-bag options in the US which is far greater than anything I have ever seen in Europe and we used them for both the Master Bedrooms in our house in Florida.
In both rooms, the base colour was gold which photographed well and both looked and felt luxurious.
Another occasion where you may feel the need for something more than a padded panel is where you have a window in a bathroom and you don't feel there is adequate cover from neighbours. Everyone deserves privacy whilst using the bathroom and your guests will be uncomfortable if they feel they are overlooked.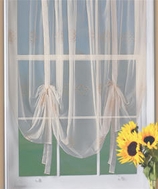 If you already have frosted glass, a simple sheer fabric drape may just add what you need whilst still allowing light to come through.
I think curtains rarely look right in a bathroom though and given the high humidity, they can look limp and tired in no time but sheer fabrics can soften a window nicely where a solid fabric isn't necessary.
You may find that a blind or shade is preferable in this situation as it will afford a higher degree of privacy.
Another practicality you may need to consider is if your property is in a very cold area and thermal or black out curtains may not only make things more comfortable for your guests but should help to keep the heating costs down. They will cost you a little more at the outset but should pay for themselves in no time.
One other practical consideration - if, like me, you like the look of over-long material which pools softly on the floor you may want to keep this for your own home only. In a vacation rental you can't expect everyone to be as careful as you would be yourself and the extra fabric could easily become grubby if stepped on regularly or, even worse, could cause a visitor to trip and fall.
What's Your Top Tip For Easy Window Treatments?
Do you have favorite window dressing ideas? Do you have a tip for a quick and easy window treatment? Some no sew window treatments you would love to share? If so, we'd love to hear from you.

Got a photo? We'd love to see it.

Want to link to a page on the internet? Perhaps your own website? Just type in the website address and I will turn it into a clickable link before adding the details to the site.

What Other Visitors Have Said
Click below to see contributions from other visitors to this page...