What color curtains match my living room?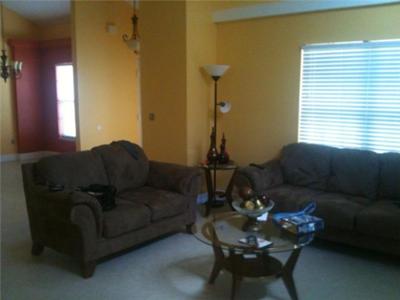 Mustard Yellow and Red Lounge
Just purchased a house and need help with curtains.


I have yellow/mustard colored walls in my living room and...
- Mocha sofa and loveseat
- Glass tables
- Black entertainment center
- Red and Beige pillows
- Light beige tile floors
- Dining Room has a reddish color accent wall that connects to the living room
- Accessories are neutral with red
What color curtains show I use? I have large sliding glass doors in the living room and windows in the dining.
I like a warm, cozy, and contemporary style living room. It has a little bit of a contemporary tuscan look to it.
Andrea's Response
You have quite a bit of color but it looks like there are no patterned fabrics in the room so it might be nice to introduce that.
If I were you I would look for a fabric that brought together all the other colors you already have.
You mention red, yellow, taupe, black and beige - it is unlikely that you will get a fabric that includes all of those but that doesn't matter, just pick your favourites.
The fabric I was looking at - 'Tranquility Wow Honey', pictured above - may fit the bill. It is impossible to see color accurately on a computer screen but I am sure you can see what I am getting at with a fabric that has a light colored background but brings in red and taupe and an all over warm yellowy-ness.
I think this particular fabric also manages to combines warm and cozy with contemporary and retro - now that's really clever!