Print This Page
Home > Wall Decor > Wallpaper Borders
Decorating With Wallpaper Borders
Decorating with wallpaper borders allows you to change the look of a room for only a small cost - one of the simplest budget decorating ideas and an easy DIY job.
Using wall borders is a great way to bring a touch of welcome color to any room and they are ideal for those of us who are short of time, money or decorating skills.

Like accent wall tiles, the amount of choice available is vast - particularly in the US where there are hundreds of dedicated websites and retailers offering almost any color, subject or theme you could possibly choose.
From
A

to a

Z

ebra print wallpaper border!

Many come ready pasted or have a peel-off backing so you can stick them straight to the wall. Even the most 'decoratingly-challenged' of us can manage this!

The only thing you need to be careful about is sticking it in a straight line so do spend a few minutes with a spirit level and draw a small pencil marker on the wall to help you with this.

New build vacation properties are often painted white or cream and a wallpaper strip or border is a quick and easy way for you to individualize your property.

Laundry room décor is a good example. Let's face it, it's hardly a room in the house which inspires great excitement is it?

But how much nicer would your time in this room be if you had added a touch of color and humor with a picture?

OK, let's be honest, we aren't going to get over excited about doing the washing because of a picture or pattern but it all adds up to showing your guests that they are staying in a property that someone cares for and takes an interest in.

I like to add touches to a vacation property to make it feel slightly 'home-y' and this is one way to do that.

If your guests wanted something totally bland, wouldn't they stay in a chain hotel rather than a privately owned vacation property?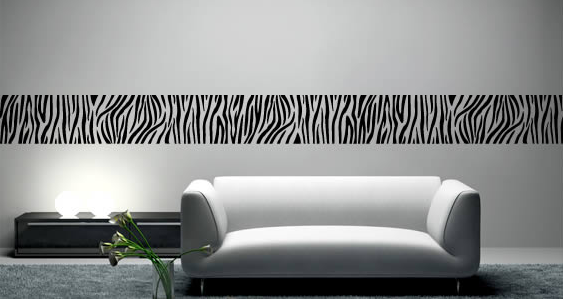 This striking zebra strip looks great and is a gorgeous vinyl wall border available on-line from 'Dezign With A Z'. 
What about the kitchen? I think that modern kitchens with their unfussy cupboard doors and clean lines can go a bit too far and look almost clinical.
A fun, colorful kitchen strip - used sparingly - can bring the personality back to the room - often at a fraction of the cost of other wall decor options like tiling or even re-painting.
You can create a feeling of opulence when you decorate a master bathroom by adding a pattern or maybe encourage children to spend more time in their bathroom by putting something humorous around the room.
Like many forms of wall decor, a light touch is best here but whichever room you are trying to personalize, do give wallpaper borders a look - they have come a long way since the 80's...
What's Your Favorite Wall Decor Tip?
Do you have a great wall decor idea?

Whatever it is, I would love to hear about it. What it is, why you love it and how much it costs you.

Got a photo? We'd love to see it.

Want to link to a page on the internet? Perhaps your own website? Just type in the website address and I will turn it into a clickable link before adding the details to the site.