Print This Page
Home > Individual Rooms > Loft Decor
Decorating A Loft Or Den
When it comes to loft decor, bright colors and soft comfy shapes are the secret to creating a fun and comfortable room.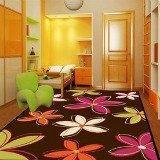 Decorating a loft is all about comfort and practicality and anyone who has spotted my love of bright colour and soft furnishings won't be surprised to know it is an area of the property I love and enjoy furnishing.
Many of the larger vacation properties in Florida have a room or area of the property that could be described as a loft, den, or recreation room.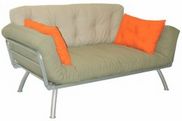 Do Americans still also use the term 'rumpus room' that I remember from the dodgy US sitcoms of years ago?
Whatever you care to call it, we are talking about a casual area for play or relaxation – often given over to the kids or teenagers in the party.

In our Florida property we had a large open space at the top of the stairs which, with hindsight would have been plenty big enough for an additional bedroom but which had been left as a bare but carpeted space.
Many other homeowners with similar properties chose to furnish it with a small sofa or perhaps a comfy chair, bookcase and reading lamp.
Others left it bare with just a picture on the wall and a large plant.

We chose to use the space as if it were a room and equipped it for our children with a desk and laptop computer, a PS2 and a small library of PS2 games and books.
Rather than buy bulky furniture (which would have looked over-sized in the space we had) we simply bought a couple of large squidgy bean bags in a very bright multi-colored tie-die fabric.

The kids loved it and, whenever they weren't in the pool, this is where they could be found.
It is, of course, your choice as to whether or not you choose to provide your guests with a computer but I am sure that many of your guests will be travelling with a laptop - I know I usually do.

Being provided with a desk and proper chair next to a point where you can link up to the internet will be welcomed by many people.
My main den or loft decor suggestion would be to pick a bright colour that you love and use that as the basis for your loft decorating plan.
I am a big fan of orange and it is a super color to use in a new build property when you have a very plain white or cream background and no real architectural features or color.

The furniture should be young and fun if your property appeals to families as you can bet that the kids will take over this room leaving the smarter living room to the adults in the party.
In the same way as you differentiate between the breakfast nook and the dining room this gives you the option of having your cheaper furnishings in this more kid-friendly room and your better quality furniture in the main living room.

If you are providing a sofa-bed for your guests this may be a good spot to put it rather than in your main lounge room but only if there is sufficient privacy to make your guests comfortable.
It is a room for lounging around though so don't overlook things like bean bags and sphere chairs as not only do they suit the mood of the room but also your pocket as they are come under the heading of 'cheap and cheerful'.