HELP!!! Need help decorating my living room
by Debby
(Ohio)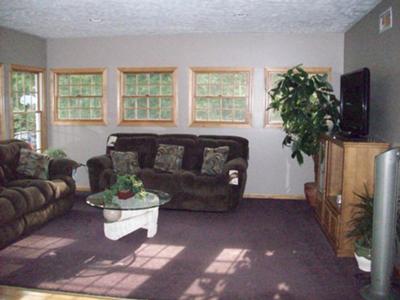 I am so excited that I ran across your website after hours and hours of searching for decorating ideas. I have decorated all the rooms in my house and have been very pleased with the results, with the exception of my dining/living room. I have never been happy with it and need help. So with that being said HELP!!


I have 2 sofas colored tundra chocolate brown and my room has lots of natural light. The rear wall has 5 tall windows and a door that overlooks a pond. Two side walls also have 4 shorter windows each.
The flooring is all light colored hardwood. I would like to keep my glass coffee and end tables but not sure if they will match the furniture. I am still looking for a dining room table and entertainment center for this room. I need help on wall color, carpet, accent colors, and I'm even looking for ideas on how to set up the room. I am sending lots of pictures. Most of my house is pretty modern/contemporary looking and I am not afraid of color — in fact I tend to like deep colors.
My couches match the Martha Stewart Tilled Soil. End tables are off-white with a few light brown speckles.
If possible I would like to leave the wall with the tall windows free as it is a beautiful view.
I could really use ideas for paint, carpet, furniture placement, and window treatments.
Thank you
Debby
Andrea's Response
What a lovely room! The windows are just beautiful. If I were
you I would be very reluctant to cover them up or do anything to block the gorgeous view.
Presumably you will need something at the windows for privacy and given that you have such a natural view outside I would suggest you go for a natural window treatment. I recommend blinds as they are unfussy and something like either a natural light wood venetian blind or a rattan rollup blind would look good.
If you feel that this gives a look that is a little unfinished then perhaps adding a voile drape will take the edge off and give a softer look.
If a more colorful blind is more to your liking then perhaps consider a hyacinth-mauve color to match your rug in a hessian type of fabric.
I like that you have a large rug to clearly define the living room area and given that the wooden floor looks so good with your window frames I would suggest you leave this as it is.
For the living room I suggest you find a fabric that will bring together the lavender of the rug with the brown of the sofa and
use this to make a few toss pillow covers
. Don't be put off if you are not very good at sewing - much easier than you think, I promise!
You mention that you like color so you might want to think about picking a wall paint the same shade of lavender that is in the fabric and
painting a feature wall
- the wall behind the TV being the obvious choice.