Print This Page
Painting Livingroom Two Colors
by Carla
(Canada)
I am hoping you can help me with painting my livingroom.

Right now I have a beige/neutral color in the room on all walls and the lower part is in a burgundy with a border.

I was thinking of painting one wall a burgundy color or two walls that color and leave the other walls beige. I don't know which wall I should do so that my room does not look any smaller than it already is.


My room is 12' x 16' and when you walk into the room the wall straight ahead of you where my wall unit is and fireplace would be the largest wall and the focal point of the room.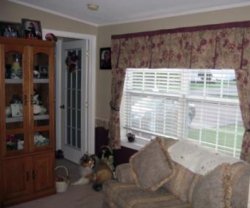 The other wall has my couch and opposite to that is my window. I have a sage and beige sofa, chair and loveseat and my curtains have sage and burgundy in them.

Please find my photos attached and again, I sure hope you can tell me what would be the best so that this room appears larger and if not, so that it does not appear any smaller than it already is. If you have any other suggestions to this space, I am open to any new ideas.

Thanks again,

Carla

Andrea's Response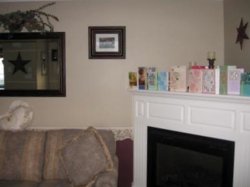 Hi Carla and many thinks for writing in and attaching so many pictures.

I agree that each wall being a solid color rather than the current half and half will give you an updated look.

If I were you I would add the burgundy or mulberry color to the wall opposite the window.

The light shining through the window onto this wall should help highlight the warmth and strength of this lovely color rather than the darkness which could be highlighted if you have the color in a dark corner.


As the couch will be in front of this wall, I suggest you replace the loose, patterned cushions on the sofa with some plain pillows in as close a shade of burgundy to the walls as you can get.

I see from the pictures that next to the couch is a half wall leading through to a dining area and you may like to consider painting this wall burgundy too. It is always tricky to get a good, clean join of two colors in a corner so this will be easier and it will also give the appearance of adding color to the dining area without really doing so as you will see the color as you enter the room.


Join in and write your own page! It's easy to do. How? Simply click here to return to Living Room Decor.