Print This Page
Home > Floor Coverings > Rugs
Using Area Rugs
Rugs are widely available in all sizes and colors and to suit all budgets. They really are a must for the interior designer look with something to offer almost every room in the property.
I find them particularly useful when decorating a villa that already has some furniture you can't afford to replace as they are ideal for bringing together a color scheme where perhaps you have inherited a sofa set in one color and curtains in another.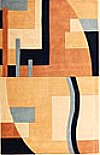 This lovely example with shades of blue and caramel and a touch of black would be ideal in a room with the seaside coloring of sea and sand. One of my favorite color schemes.
Imagine placing this in front of a beige sofa in a room where the curtains are blue and you can see how this would bring it all together without the need to replace these more costly items.

If you are planning a makeover of a predominantly blue lounge or living room bright pink would work well as an accent color. All you would need is a pretty rug like this and some jazzy cushions or toss pillows and - Hey Presto! - a new look room.

A conservatory, garden room or sun room would be the obvious place to put this gorgeous palm tree patterned rug and perhaps a silk palm or two?
It is all about individualizing your property and showing that you didn't just furnish your home by buying a 'room in a box' package.

Wow! Now this really makes a statement although I'm not quite sure what it is saying - "Look at me!", perhaps.
A stunning color that would give a whole new look to an otherwise quite plain, neutral toned room.
It would bring instant warmth to an otherwise cold room.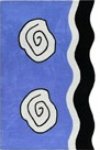 I love this one. A bit quirky and a beautiful shade of lavender blue. Perfect for a light and airy vacation property near the sea.
It's styling adds an instant contemporary look to a room so, again, could be useful when trying to re-vamp a room that has existing furnishings.

I have never been a big fan of animal prints but we once decorated a Master Bedroom with a predominantly black and gold color scheme and we used some leopard-style print there.
It was a lovely room in the end with large dark wood framed paintings - of banana plants if I remember rightly - and a giant silk palm tree in the corner. It was quite stunning - as is this striking zebra pattern.

When decorating with rugs, please don't forget that anything can be dangerous when placed on a slippery tiled floor and an excitable child running through a house to the pool could have a nasty accident.
Just remember to buy a rubberized mat that you put underneath which will stop it from sliding - problem solved.
What's Your Top Flooring Tip?
Do you have a good flooring tip, idea or story? Share it!

Tell us all about your flooring ideas - we'd love to share your comments with other visitors.
What Other Visitors Have Said
Click below to see contributions from other visitors to this page...

Decorating With Area Rugs
I have a floral love seat and sofa - beige, light green, maroon - in a country style and I have a maroon accent wall. My living room is off-white …
Rug Color?
We have a small TV room that we are going to decorate. The wall color will be a light tan. The loveseat and chair are black leather (because they …
Decorating With Area Rugs
We are building a cottage and the interior of the great room is pine with a pine cathedral ceiling and rustic looking maple flooring. The great room …