Print This Page
Home > A Little Bit More > Christmas
Christmas Decorating Tips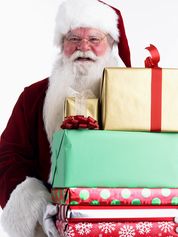 I hope that you might find here some Christmas decorating tips that will come in handy - especially if you have never rented a vacation property over the festive season yourself.
I love going away at this special time of year. It is a chance to get all the family together under one roof to eat, drink and be merry with no-one having to drive home at the end of the day after a few glasses of wine.

To sit up until the early hours chatting and then have a leisurely breakfast with the family all together is an absolute treat and in my book, Christmas isn't just a day – it is a season!
We go away over the festive period as often as we can (but never more than once a year!) – whether it is to our own vacation property or to a rental and now spending this special time of year at home seems a little 'flat'.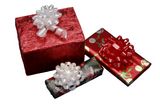 We get all dressed up on the day itself and go somewhere lovely for lunch which is a real pleasure for those of us who would otherwise spend the day cooking and washing up.

The only down side we have found in the past is that some vacation properties are a little bare and to get in the mood, you really need to have a few decorations around or at the very least, a tree to put all the lovely presents under.

If you are used to letting your property but aren't used to renting a property yourself you perhaps don't realize how disappointing it is to arrive at your holiday season 'home from home' and find it completely devoid of Christmas spirit.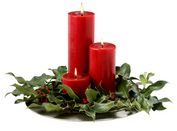 Imagine instead the sheer joy for your guests (particularly if there are children in the party) to arrive and find that the property has been decked out with Christmas decorations for your pleasure. This is so important and probaly one of my top Christmas decorating tips to vacation property owners.

The first impression your guests will have is so important and I can't stress enough how delighted they will be to see that you have made this effort just for them. Talking of first impressions, how fabulous would your house look with outdoor twinkling lights welcoming your guests as they approach for the first time?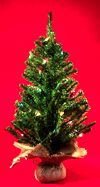 It really won't cost a lot of money to provide a tree and a selection of items to dress it with. If you are local to the property or have a good management company I would suggest that you put up the decorations yourself but if this is not possible, then providing decorations that your guests can put up themselves, should they wish to will have to suffice.

Who knows? The children in the party may even prefer to be involved in the dressing of the tree.
A few decorations stored in the garage or a spare closet will really please your guests and hopefully secure the all-important repeat booking that we all hope for when renting out vacation properties.
The absolute number one must have is a tree - artificial is best. They are less messy, inexpensive, more robust and can be used year after year.
When it comes to Christmas tree decorating - as with all things - we need to remind ourselves that this is a vacation property and not our family home. Decorations need to be tough and long lasting and I would suggest you choose items that are more traditional looking - wooden decorations and decorated pine cones rather than fragile glass baubles.
Outdoor lights look great. When we had our vacation property in Florida, we couldn't believe how lovely some of the properties looked with their outdoor lights. A great first impression.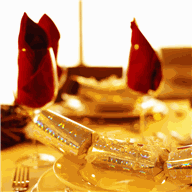 A few table decorations. We are going away this year and, although we will be out for Christmas Day lunch, we will be having a number of special, family meals in our rented holiday home. I am taking with us a selection of gold and red table ware - cloth, napkins, table centerpiece etc. - as I know from experience we will feel as if there is something missing at mealtimes without them. Your guests will be delighted to find these in your property and they need not be expensive or fancy - just adding a bit of color.
You don't really want things stuck on the walls as they may cause damage when taken down. I recommend you concentrate your efforts (and budget) on the tree and its decorations, the dining table and outdoor lighting.
Are there any food or drink items that are unique to your part of the world or a local speciality? It is always lovely to find a small gift on arrival and it needn't cost a lot of money - just something simple like a few mince pies or candy canes.
When Christmas is over, stock up on items for your vacation property in the January sales.
What Are Your Favorite Christmas Decorating Tips?
Do you have Christmas decorating tips you could share with us?

What have you loved when staying in a vacation property over Christmas?

What have you done in your property that your guests loved?

Whatever it was, I would love to hear about it.

Got a photo? Even better - we'd love to see it.

Want to link to a page on the internet? Perhaps your own website? Just type in the website address and I will turn it into a clickable link before adding the details to the site.

What Other Visitors Have Said
Click below to see contributions from other visitors to this page...

Christmas Decorating Tips
I am trying to spice up my vacation house for the holiday rental time. I am looking for ideas and extra money opportunities. Andrea's Response: …