What Color Curtains Would Go In My Mexican Living Room?
by Lisa
(Mission, Texas, USA)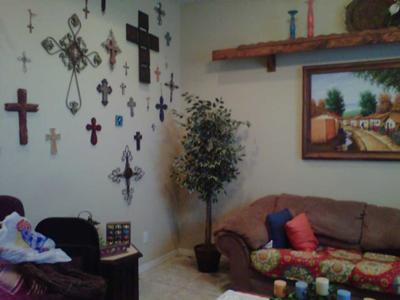 I am decorating "Mexican" style. I have a few Talavera pieces and the rest is just things that match.


I had my dad paint a design around the top half of my window which is a half circle and on the bottom half which is a square I had him put stained wood and a wood valance. We also have wood blinds in white on the window and on the half circle I took off white sheers and with a wire created a custom curtain.
I have bought so many curtains in so many colors and patterns to see which one will go with the square window and still agree that mustardy ones go best.
Please help me decide whether this is correct and if I should get print or solid.
Andrea's Response
I can't be sure from the photos but is the design above the window a turquoise background with a mustard yellow pattern?
If it is then I agree that mustard yellow is your best option.
You have an interesting shaped window being a square with a half circle above and also have the vertical and horizontal wood panelling in additon to the painted design above and for that reason I would recommend that you choose a solid, plain fabric. I think you will end up with a window area that looks too 'busy' if you choose a patterned fabric in addition to the features that you already have.
Aside from the window, another thought I had was about the wall color. I can see that you have a number of pale orange/coral accessories - pillows, candles... - and this color also seems to feature in the sofa seat cover and the picture above. Have you considered painting a
feature wall
in this color too?
I think it would really add to the Mexican feel in the room and would bring some of the other elements and accessories you have all together in a really nice way.