Is Grey A Good Paint Colour For The Living Room?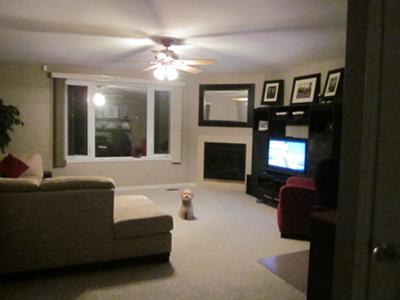 I'm having trouble picking a paint colour for the living room.


We will be putting down walnut laminate flooring in a couple of weeks.
There are three windows in the room, a cream colour sectional, a red accent chair and dark wood furniture.
I was originally thinking grey paint, but now I'm second guessing myself because of the colour of the sectional.
What is your opinion on grey and/or do you have any other colour suggestions?
Thank you :)
Andrea's Response
So your colour palette at the moment is dark (wood) brown, cream and red... no, personally I would not go for grey as a wall color.
I like grey but it is quite a cold colour and can look a bit 'urban'. Your furnishings seem to be quite contemporary and the overall look is warm. I think grey would spoil that look and feel.
I don't really believe in decorating rules and think that sometimes you just need to do what feels right for you and suits your family but one thing I do tend to stick with is that most rooms or homes tend to be in the
black/grey/silver trim
camp or the
brown/beige/gold trim
camp and I think it is hard to mix the two.
I love your red chair and can see that you have carried that colour over as an accent with a sofa cushion or two. I would suggest that you might like to consider increasing the amount of red in the room by introducing drapes in a cream and red patterned fabric or perhaps by
painting a red feature wall.
If that sounds tempting but a little too bold for your taste you could make it the wall that is partially obscured by your desk area and shelving.
I hate to sound boring but for the rest of the walls I would opt for a creamy beige - similar to your sectional - or a pale caramel/tan if you want something a little stronger.